Institutional reform plan will improve governance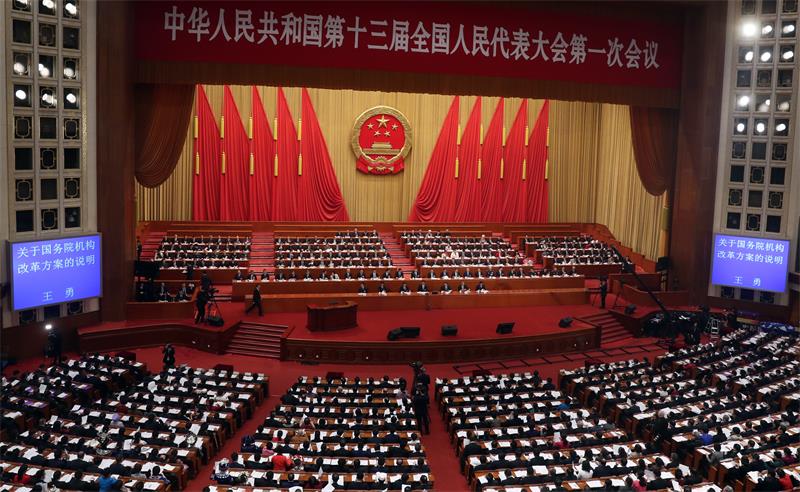 The Institutional Reform Plan of the State Council, China's Cabinet, was submitted to the ongoing first plenary session of the National People's Congress for deliberation on Tuesday, initiating the process for the restructuring of government so that it better meets the nation's needs for progress and development.
The proposed revamp will modernize China's system and capacity for governance, and better leverage the ruling Party's proven leadership, guidance and coordination capabilities by strengthening its ability to clarify the big picture of the country's overarching objectives, draw up the plans for how to accomplish them and design and implement policy to successfully attain them.
In the past nearly four decades since 1982, the State Council institutions have been reorganized seven times to better adapt them to changes that have been brought about by the country's economic development and social progress. But none has been as far-reaching as the proposed changes this time.
The arrangement, which cuts 15 ministerial or vice-ministerial level departments under the State Council and regroups some supervisory bodies, underlines that the Party is shouldering the responsibility to exercise leadership over all areas of the country's endeavor to build a modern society.
The country has made tremendous achievements in both economic development and social progress over the past five years since the current Party leadership took over the helm, but at the same time, some government departments have proved unable to fulfill their roles in forestalling and defusing risks and advancing much-needed reforms.
This has often been because of an unclear division of responsibilities, so it is noteworthy that the plan aims to end the existing situation in which a department plays the role of policy planner, implementer and supervisor simultaneously.
The changes are meant to establish a sound mind in a healthy body by making the government departments and regulators more solution-oriented so that they can better diagnose problems and thus more effectively treat them.
At the same time, to better ensure that the top level governance is clean and efficient, a draft supervision law was submitted for a third reading to the national legislature on Tuesday. If approved, the bill will see new supervisory commissions established at the national, provincial, city and county levels to serve as the fundamental guarantee for the supervision of power.
The currents of time will not be stilled, both China and the world are in the midst of profound and complex changes, and the consolidation of Party and State leadership is essential if the country is to successfully grasp the opportunities of what remains an important period of opportunity for its development.
Most Viewed in 24 Hours
China Views