Food brings outsiders to my moveable feast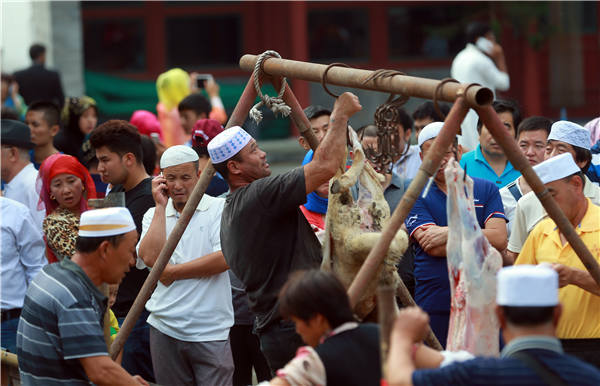 The tourist sights on offer in and around Beijing almost jump out at you even before you have time to consult a tourist guide book, the most obvious being the Forbidden City, the Great Wall or Houhai Lake. One that is a little less obvious, but will always be my top choice, is Niujie, an area in which I was born, grew up and still live.
In this area lives city's largest population of the Hui ethnic group, who are traditionally Muslim, and the Niujie Mosque, built in 996 during the Liao Dynasty (916-1125), is there. It is also an area that offers authentic Beijing culture such as hutong and dialects.
I imagine that when city folk drive through or past Niujie, a common line is: "Great place to buy lamb, beef and snacks." For me though the area's greatest charm is its contrast to the skyscrapers of the central business district, and that if offers me the most comfortable sense of longing.
As a child I lived in a narrow hutong and can still remember that the zigzagging alleyways were my favorite playground.
Although I am an only child, I was not lonely. Children of my age living in the hutong of Niujie played together and attended the same primary school. Locals buy daily supplies at closet-sized stores, build pigeon nests on the roofs, and visit neighbors without changing their pajamas.
Niujie is in Xicheng district, formerly known as Xuanwu district, known for its Beijing traditional folk culture.
When the mosque was built during the Liao Dynasty many Muslims moved to the area.
My grandmother reckons the local families of Niujie made their living by running small businesses, especially selling handmade food. The name of the food is usually a combination of the food and the families' names.
Now, more and more restaurants are appearing in Niujie, mostly selling Muslim food. But snack food is the most popular with consumers.
In the 1990s Niujie flourished when the neighborhood's roads were widened and more residential buildings were built, supplanting old, shabby courtyards. Despite the changes, old neighbors remain close and still visit each other frequently.
Trees abound, and in summer elderly men gather in their shadows, drinking, eating and chatting. Outside a window of my house is a big tree that has been there since I moved from a courtyard to building in 1994. Over those 24 years it has presided not just over every changing season, but over the locals as they come and go, too.
In 1950 Ernest Hemingway wrote to a friend: "If you are lucky enough to have lived in Paris as a young man, then wherever you go for the rest of your life, it stays with you, for Paris is a moveable feast."
For me, Niujie possesses the magic of Paris, which Hemingway documented in his memoir. I still enjoy observing the place and feel the need to know more about it.