Lego's China performance offsets sales dip in US, Europe
Share - WeChat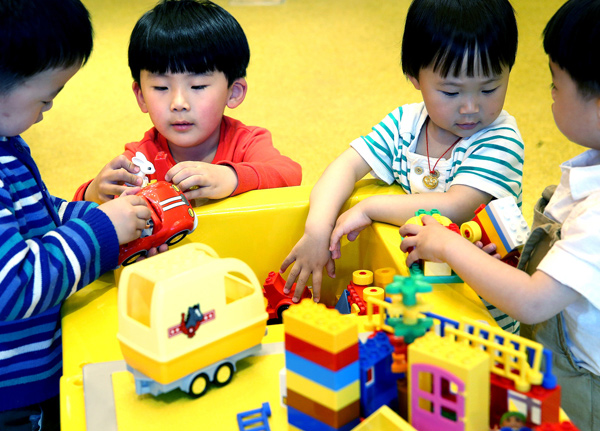 The continued robust growth of the Chinese market has helped Danish toymaker Lego offset its stagnant performance in the US and European markets.
According to the group's fiscal results released on Tuesday, Lego China registered strong double-digit growth in 2017, while the group's revenue for the full year declined by 7 percent from a year earlier.
The turnover of the Lego Group came in at 35 billion Danish krone ($5.8 billion) for 2017, according to the fiscal report. The group registered an annual net profit of 7.8 billion Danish krone in 2017, down from 9.4 billion Danish krone a year earlier. It is the first time in 13 years that Lego has reported a sales decrease.
The contracted revenue of the group can be largely attributed to the weaker results in established markets such as North America and Europe.
However, Lego's chief executive officer Niels B Christiansen said that sales in these markets picked up in the final months of last year and they have positioned themselves well for 2018 as inventories have been substantially cleaned up.
Regarding the increasing demand in China, Christiansen said that the company will continue to open more physical stores in the country. Although people from the first-tier cities make up the majority of consumers at present, the target is to reach all consumers here soon.
The group will also strengthen its business unit Lego Education in China, given the second child policy and increased consumption levels, said Christiansen. At present, Lego is working with domestic educational companies such as Beijing Semia Technology and Beijing Sunglory Education to provide educational services in the country.
In mid-January, Lego announced a partnership with Chinese tech giant Tencent Holdings Ltd, which includes the development of a Lego video zone for children, Lego branded licensed games, an online operation system for Lego Boost series products, and a social network for children.
Lego opened a flagship store in Shanghai in 2016, which is the first of its kind in the country. According to Jacob Kragh, general manager of Lego in China, the company's brand stores will be a crucial distribution channel for Lego in the upcoming years in China.
E-commerce platforms and traditional toy retailers will be the other two important distribution channels for Lego in China, said Kragh.