Moderated growth aids reform, advisers affirm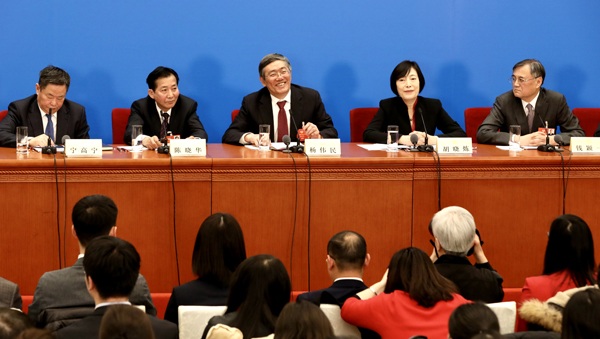 China will push high-quality economic growth this year and will have a greater tolerance for a slower growth rate, members of the country's top political advisory body said on Thursday.
Yang Weimin, deputy head of the Office of the Central Leading Group on Financial and Economic Affairs, said that slower growth is a natural process for a country that has experienced rapid economic expansion.
There is no need to panic about a slight rise or drop in the GDP growth rate, he said.
China will continue to foster stable growth, push supply-side reform, resolve major financial risks, properly deal with local government debt and promote healthy development of the property market, Yang, who is also a member of the 13th National Committee of the Chinese People's Political Consultative Conference, said at a news conference.
In this year's Government Work Report, China set its economic growth target at around 6.5 percent, which is 0.4 percentage point lower than the growth rate of last year. Several provincial governments have also lowered their growth targets for this year.
"It is a significant change and an important signal as it shows the country's shift from fast growth to high-quality growth," said Qian Yingyi, dean of School of Economics and Management of Tsinghua University and a CPPCC National Committee member.
Qian said that the 6.5 percent growth target reflects the strategic shift of China's economic policies, and it will create greater room for the country's economic transition.
Yang also said China's determined efforts in tackling debt and financial risks, eradicating absolute poverty by 2020 and coping with pollution-which have been named the "three tough battles" for the central government-are also essential in improving the country's development quality.
Yang conceded at the news conference that the growth of debt at the governmental, business and individual levels has seen a "relatively rapid" increase in recent years.
But he said China's leadership and central government is sober-minded about the possible risks that its rapid growth could bring and has enacted multiple measures to curb the debt increase.
Hu Xiaolian, chairwoman of the Export-Import Bank of China, said China should tackle the rising risks from big financial holding companies and their risky practices, such as excessive borrowing and high capital leverage.
Hu, who is also a member of the 13th National Committee of the Chinese People's Political Consultative Conference, said officials should strengthen regulations on corporate governance of the financial institutions and should increase coordination to avoid a regulatory vacuum.
She was responding to a question at a news conference about the country's risk prevention policy following the government's takeover of Anbang Insurance Group, a private conglomerate that is alleged to have engaged in illegal business operations.
"We need to fill the regulatory void and eradicate the gray areas. ... Various regulatory agencies need to have effective coordination ...and should have a unified regulatory standard," Hu said.