Highlights of foreign minister's press conference
By Liu Hui, Xu He, Wang Jingwen, Liu Shanshan, Wang Qingyun, Luo Wangshu, Zhou Jin, Li Xiang and He Wei | chinadaily.com.cn/Xinhua | Updated: 2018-03-08 10:29




Share - WeChat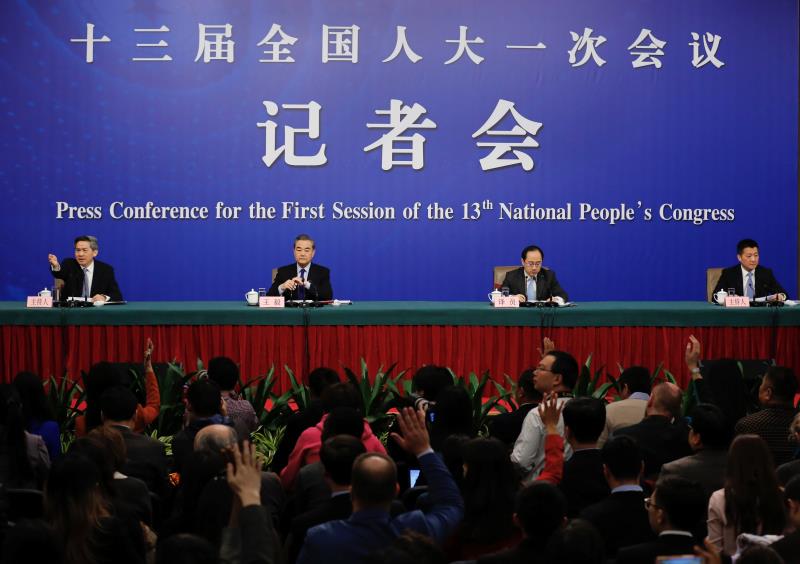 BEIJING - Chinese Foreign Minister Wang Yi met the press Thursday morning on the sidelines of the first session of the 13th National People's Congress.
Wang briefs journalists from home and abroad on China's foreign policies and answer questions on a wide range of diplomatic issues.
China to help build global community of shared future
As a committed and responsible country, China is concerned with the welfare of humanity and will help build a global community of shared future, said Wang Yi.
China will put the greater good before its self interests; and will stand up for small and weak countries and help less-developed countries achieve better growth, Wang said calling China's foreign policy as "more visionary".
China will play a more active role to meet international expectations and approach global governance on the basis of extensive consultation, joint contribution and shared benefits, he said.
China-LAC cooperation does not target anyone
The cooperation between China and Latin America and the Caribbean (LAC) does not target or seeks to replace anyone, Wang Yi said.
"China will not move anyone's 'cheese,'" Wang said, "China and LAC are helping and supporting each other as fellow developing countries."
Adhering to one-China principle in other countries interest
It is a correct choice and an "overriding and unstoppable" trend for countries to sever diplomatic ties with Taiwan and establish relations with the government of the People's Republic of China, the sole legal representative of the whole China.
The move also conforms to the long-term interests of those countries and their people, Wang added.
"There is only one China in the world. Taiwan is an inseparable part of China. This has been the consensus of the international community for decades. Adhering to the one-China principle and not having official ties with Taiwan has become a generally observed norm in international relations," the foreign minister said.
"The key to unlocking the cross-straits stalemate lies in recognizing the 1992 Consensus and acknowledging that the two sides of the Taiwan Straits belong to one and the same China," Wang said urging the Taiwan authorities to return to the consensus as soon as possible.
Beijing wants SCO to be more cohesive, effective and influential
China looks forward to working with other members to achieve three goals at the summit of Shanghai Cooperation Organization: making the SCO more cohesive, more effective and more influential, Wang Yi said.
Shanghai Cooperation Organization was born in China and the Qingdao Summit will be the first one after the SCO admitted new members. The nation welcomes the SCO back to China and expects it to embark on a new journey in Qingdao, said Wang.
China will make the Qingdao Summit a new milestone in the history of the SCO and push this new type of regional organization into a new era, Wang said.
Chinese consulates to cut document attestation fees
Three more measures to ensure the safety of Chinese citizens abroad were introduced by Foreign Minister Wang Yi.
First, the Ministry of Foreign Affairs (MFA) is working on drafting legislation on consular protection and assistance. Public consultation will start after the two sessions.
Second, 12308 smartphone app will soon be launched based on the existing WeChat and weibo platforms. People will have more convenient accesses to consular service.
Third, Chinese diplomatic and consular missions around the world will slash consular legalization fees as much as two-thirds starting Friday, to save Chinese citizens and businesses more than 10 million yuan every year.