Retrieving, recycling new energy car batteries to bolster sector
Share - WeChat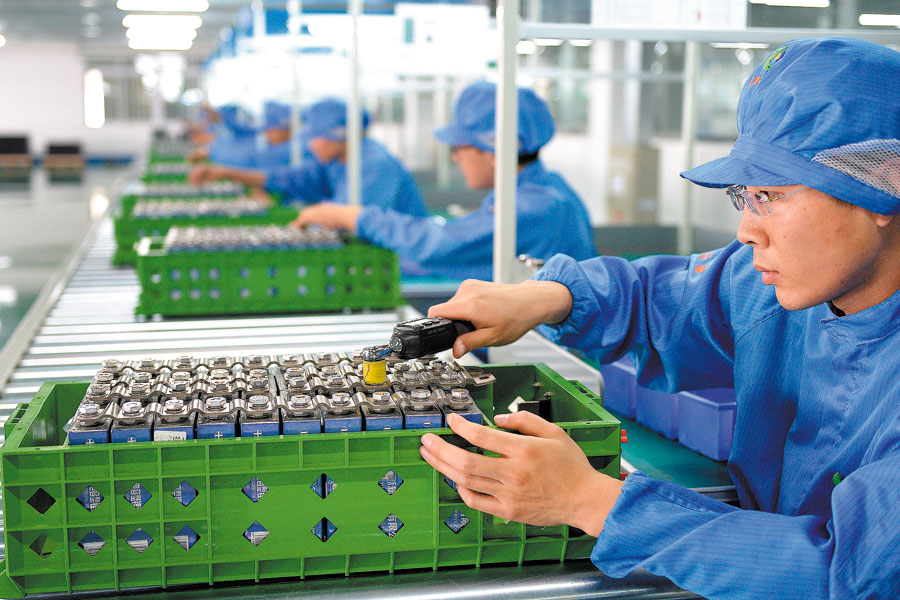 New guidelines encourage automakers to create end-to-end networks to aid industry, environment
China is planning to build a system to recycle new energy car batteries, with carmakers set to play a major role, in an effort to boost the development of the fast-growing segment.
Carmakers should build a network to collect used and retired batteries, and transport them to companies contracted to process and recycle, according to guidelines released last week, which will take effect in August.
The guidelines also encourage automakers to build a maintenance network so as to better serve new energy car owners.
Batteries from the first wave of new energy cars in China will start retiring in 2018, said the Ministry of Industry and Information Technology, explaining the background of the guidelines it jointly released with six other government departments.
The ministry said it expects retired batteries will together weigh around 200,000 tons by 2020. The China Automotive Technology and Research Center estimated that figure would reach 350,000 tons by 2025.
"Even if 70 percent of them can be recycled, that means some 60,000 tons will fall into disuse by 2020. Without proper means of disposal, they will bring about environmental and safety risks and result in a waste of resources," the ministry said.
Lithium batteries, commonly used in new energy cars, are less hazardous to the environment than lead-acid batteries. The copper, cobalt and nickel in the batteries also have high recycling value.
"Carmakers can rely on their sales network to collect used batteries. In fact, only carmakers have the ability to do it," Cui Dongshu, secretary-general of the China Passenger Car Association told the Southern Metropolis Daily.
Analysts said a sound battery recycling system is essential to the rapid growth of China's new energy car market, as more and more carmakers, both local and overseas, are shifting their focus to electrification.
Volkswagen AG estimated that it will sell 400,000 such cars a year by 2020 in China. Nissan's Chinese joint venture, Dongfeng Motor Co, said it expects new energy cars will represent 30 percent of its sales by 2022, by which time it estimates annual sales will reach 2.6 million vehicles.
According to the new guidelines, China will have 5 million new energy cars on its roads by 2020. A total of 777,000 electric cars and plug-in hybrids were sold in the market last year, up 53.3 percent year-on-year, according to statistics from the China Association of Automobile Manufacturers.
To facilitate recycling, new energy car battery producers should adopt standardized and easy-to-dismantle designs, and share information about battery controlling systems' interfaces and communication protocols, according to the guidelines.
The battery-makers should also provide technical information on dismantling and storage, as well as necessary training to automakers.
The guidelines encourage battery-makers to strengthen cooperation with companies that can make a better and rational use of used batteries removed from new energy cars.
The move also encourages the research of new energy car battery recycling and supports cooperation between research institutions and companies in the industry.
The MIIT, together with the General Administration of Quality Supervision, Inspection and Quarantine, the country's top quality watchdog, will build a unified information tracking platform to strengthen information sharing and the tracing of batteries.
The new policy also welcomes private capital to establish industrial funds to explore market-based trading.
According to China Securities Journal, the battery recycling segment is a new gold mine thanks to its market size, which stands at 5 billion yuan ($788 million) this year, and is expected to double by 2020.
The vast potential has attracted some companies to make inroads into the sector.
In January, China Tower signed deals with 16 Chinese companies, both car and battery-makers, in battery recycling. Among the partners are BYD and Chongqing Changan Automobile.
China Tower has been in the business since 2015. Now it has built a network of some 3,000 stations in 12 provinces and municipalities across the country.