Tencent to advance into new AI areas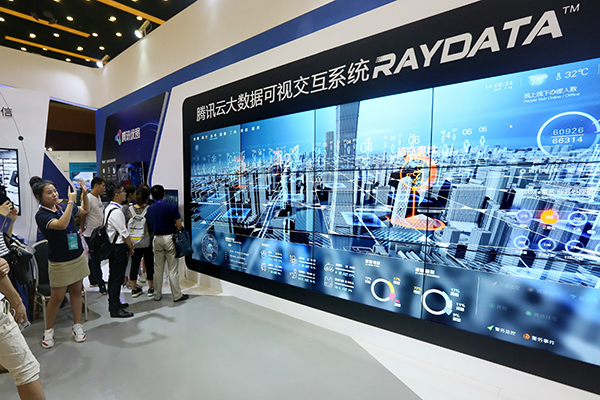 Tencent Holdings Ltd is looking to deepen its artificial intelligence push into transportation solutions, security and protection, as well as voice recognition, realms that were once seen as strongholds of other tech majors.
The endeavor to advance into new areas builds upon the company's initial success in developing AI for medical diagnosis, a mission designated to Tencent by the country's top industry and internet regulator, according to Liu Yongsheng, head of Tencent AI Lab.
"For the purpose of better city management, there's plenty of space for different companies to leverage and deploy their AI capabilities. Every player is just taking a tiny slice of the pie," he told China Daily on Friday.
Ideally, algorithms and big data can be combined to provide live traffic predictions, so that safety precaution measures and contingency plans can be introduced in advance, he said.
This is an area where arch rival Alibaba Holding Group Ltd has gained an early foothold. It pioneered a smart traffic management system called City Brain in Hangzhou, where average traffic speed was reported to have increased 15 percent since its launch in September 2016. Early this year, the firm exported a similar mechanism to Malaysia, the first of its kind overseas.
"Nevertheless, there are just so many facets in urban planning that companies can dig deep into," Liu said. "We don't necessarily have to compete with each other and can all be part of city planning in the long run."
Voice recognition is another area on which Tencent is placing bets. An indigenous group is working to optimize accuracy from voice conversion to machine translation, functions that are embedded in WeChat, the ubiquitous messaging app that has nearly 1 billion users.
"We are developing our own team and own technologies," Liu said, when asked if they are banking on technologies of iFlyTek, a domestic voice recognition specialist.
China has upheld the development of AI as a national strategy and has recruited Tencent, Alibaba, iFlyTek and Baidu Inc to an "AI national team" to have them each focus on one specific field.
While Tencent has been tasked to use its computer vision for medical diagnosis, Baidu will specialize in autonomous driving, Alibaba in smart city and iFlyTek in voice intelligence.
According to Liu, Tencent will further expand the use of its AI-backed cancer-detection product Miying to a wider array of diseases.
Currently it is used in reading CT scans and screening of four types of cancers including lung cancer, the most common cancer in China, in around 60 hospitals across 20 provinces.
"We are anticipating an even bigger role for Miying this year, by having AI assist human doctors in their daily diagnosis," he said.