China unveils policy for NEV battery recycling
Share - WeChat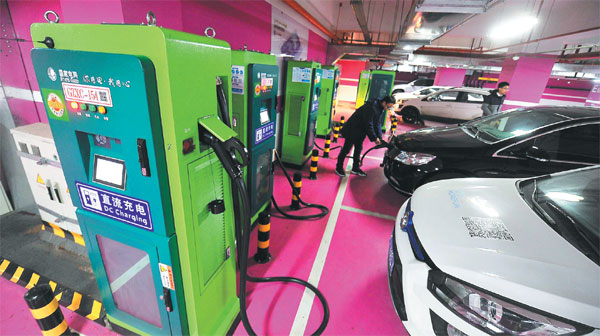 BEIJING - Chinese authorities have published a guideline Monday on recycling new energy vehicle (NEV) batteries.
China encourages the research of NEV battery recycling and supports relevant cooperation between research institutions and industrial entities, according to a document jointly released by the Ministry of Industry and Information Technology (MIIT) and six other government departments.
"NEV battery producers should provide technical information on dismantling and restoring their products as well as necessary training to auto makers, while auto makers are encouraged to build maintenance network so as to better serve NEV owners," the document said.
Various cooperation between battery producers and auto makers was encouraged to build channels for battery recycling, as auto makers were required to set up recycling sites.
The MIIT, together with the General Administration of Quality Supervision, Inspection and Quarantine, the country's top quality watchdog, will build a unified information tracking platform to strengthen information sharing and the tracing of batteries.
The new policy also welcomes social capital to establish industrial funds to explore market-based trading.
China's NEV market recorded another year of rapid growth in 2017 as the government continued its strong push for green transport, posing a great challenge to battery recycling.
A total of 777,000 NEVs were sold on the Chinese market last year, up 53.3 percent year on year. The total production and sales of NEVs are expected to hit 5 million by 2020.
Lithium batteries, commonly used in NEVs, pose less hazard to the environment than lead-acid batteries. Copper, cobalt and nickel in the batteries also have high recycling values.
The China Automotive Technology and Research Center estimated that China would see 120,000 to 200,000 tonnes of batteries disposed of between 2018 and 2020, and 350,000 tonnes in 2025.
In 2016, China's State Council said NEV makers should be responsible for building a recycling network for used batteries, and use an after-market network to recycle used batteries.