United States stuns Sweden to claim first Olympic title in curling at PyeongChang Games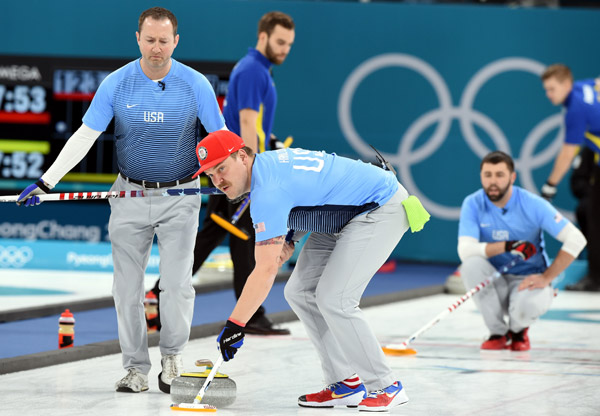 PYEONGCHANG -- A five-point-winning end inspired United States to defeat Sweden 10-7 in the men's game and claim its first Olympic title in curling here Saturday afternoon.
The two sides opened the match prudently, with the Swedish blanking the rivals in the first end and grabbing two points in the second, only to be levelled by the U.S. in the third through a great last shot from skip John Shuster.
The next four ends saw the two sides continue their see-saw game and get tied 5-5, before United States skip Shuster, capitalizing on a strategic mistake of the Swedish, did a perfect double take-out to score five points in the eighth end.
The Swedish, with the hammer, managed to get back two points in the ninth end but failed to turn the tide and let the US seal the game 10-7.
Shuster, bronze medalist in 2006 Turin Winter Olympics but finished 10th in Vancouver and 9th in Sochi, said that he was happy to make the decisive shot in the eighth end for his teammates.
"These guys around me, and their belief and their hard work, gave me the confidence to just sit in the hack and let it go. I know that if the rest of these guys had that rock in their hands, they would have made that shot, too," he said.
The Swedish team, the 2017 world championship silver medalists and having beaten United States 10-4 in the round robin session, however, were bitter about the loss on Saturday.
"Just feeling empty, and disappointed we couldn't play a better game. We had our chances, but at the same time we missed a lot of shots," said Swedish skip Niklas Edin.
In the previous day, Switzerland claimed bronze medal of men's curling after beating Canada 7-5.
It was the second loss that Canada, the reigning Olympic and world champions, suffered in two days, after being defeated by United States 5-3 in the semifinal.
Switzerland, eighth finisher in Sochi and qualifying for the semifinals through a tiebreaker, said they were happy about winning the bronze.
"We knew we are going to play Canada, we were a little shaky... Very fortunate. Maybe they didn't play their absolutely best game, we had a pretty good game, that was enough to win it," said Swiss player Peter De Cruz.