Geely chairman acquires 9.69% stake in Daimler
Share - WeChat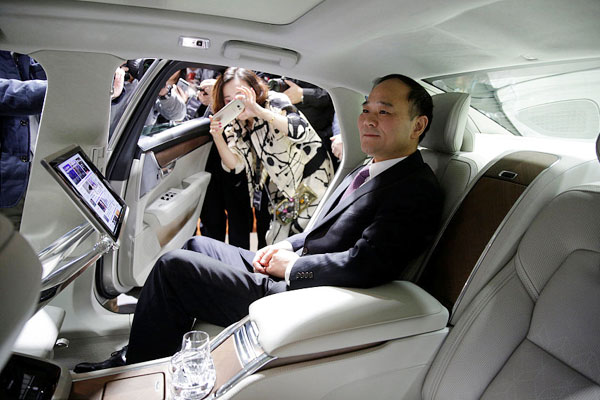 The founder and chairman of China's Zhejiang Geely Holding Group has acquired a 9.69 percent stake in German carmaker Daimler AG, becoming the largest shareholder of Mercedes-Benz's parent company.
Li Shufu, head of the Chinese carmaker, acquired the stake valued at around $9 billion through an investment fund, according to a regulatory filing on Friday.
Prior to Li's investment, Kuwait's sovereign wealth fund, which has been an investor in Daimler for decades, was the largest stakeholder in the Stuttgart-based automaker with a 6.8 percent holding.
Li's move to accumulate the stake was motivated by dramatic transformation in the automotive industry including electric mobility, according to Reuters quoting sources familiar with the matter.
In as early as 2015, Geely Auto, a subsidiary of Zhejiang Geely Holding Group, set targets for new energy vehicles to account for 90 percent of its sales by the end of the decade.
Of them, about two-thirds will come from hybrids and plug-in hybrids, with the remaining from electric vehicles.
Daimler and Geely have not held concrete talks about how to structure a potential joint venture between the two automakers, according to a Reuters source.
"You know we have to become a stakeholder in order to engage," the source is quoted as saying.
The purchase comes after an initial approach by Geely last November asking Daimler to issue new shares so that it could buy a stake. Daimler declined, leading Li to change tactics and quietly accumulate shares himself.
The German carmaker said it sees the investment as a vote of confidence.
"Daimler is pleased to have won a new long-term investor who is convinced of the innovation power, strategy and the potential of Daimler going forward," Reuters quoted the German company as saying.
"Daimler knows and respects Li Shufu as a Chinese entrepreneur of particular competence and forward thinking."
Daimler now has two car making partners in China. Its joint venture with BAIC Group is now localizing Mercedes-Benz's conventional fuel models, with electric models scheduled to follow soon. The German carmaker's partnership with BYD Co is producing electric cars under a new brand, Denza.
Geely, one of the most successful carmakers in China, has been on a shopping spree in recent years.
In December, it became the biggest shareholder in Sweden's Volvo AB, the world's second-largest truck maker, following a $3.9 billion deal with investor Cevian Capital AB.
In the same year, it acquired a 49.9 percent stake in Malaysian automaker Proton and bought flying car company Terrafugia Inc. Geely also owns Volvo Cars, which has been helping Geely with technology to seize a larger share of the Chinese car market.
Geely sold 1.24 million cars in 2017, up 63 percent year-on-year, becoming one of China's fastest-growing brands. In November 2017, Geely unveiled the first model from its new brand Lynk & CO, which is designed to take on international brands.