Experts to repair warrior's thumb
Share - WeChat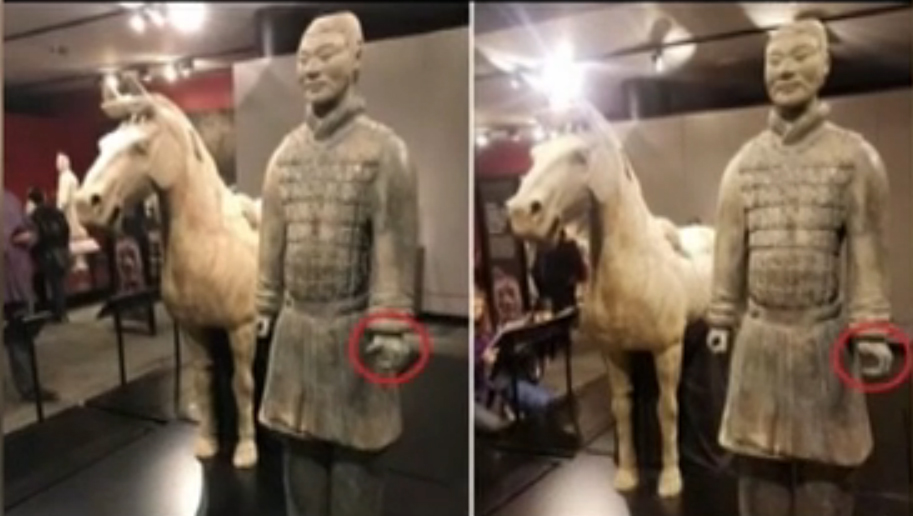 The cultural relics authority of Northwest China's Shaanxi province will send conservationists to repair a Terracotta Warrior that had its thumb stolen by a member of the public while on display at a Philadelphia museum.
US departments that are involved should guarantee the safety of the relics on display, and parties concerned will be held legally accountable, the provincial cultural heritage department said on Sunday.
The Shaanxi Cultural Heritage Promotion Center said it has organized more than 260 overseas exhibitions in the past 40 years and has never before come across such a situation.
The statue of a cavalryman, which dates back to at least 209 BC, is one of 10 Chinese Terracotta Warrior statues now on display at the Franklin Institute in Pennsylvania. The exhibit will run through March 4.
Wang Dongfeng, a cultural relics repair expert at the Emperor Qinshihuang's Mausoleum Site Museum in Shaanxi, said it takes at least three to five months to restore a Terracotta Warrior because the process is complicated.
Since 2009, Wang's team has restored more than 100 of the Terracotta Warriors.
According to the Stolen (Lost) Cultural Relics Information Publishing Platform of China, which went online late last year, up to 60 percent of cases of theft have occurred in museums and historical relics institutions.
However, most cases occurred in the 1980s and 1990s. As security technology developed in recent years, it has become more difficult to steal a cultural relic from a museum in China, according to the publishing platform.
Chen Shiqu, deputy head of the Criminal Investigation Department at the Ministry of Public Security, said during a previous interview that the prices of cultural relics have risen in recent years, leading to more thefts using upgraded technology.
"Some criminals are equipped with high-tech tools that can make a tunnel very quickly to steal and transport the cultural relics," he said.
"China will continue to complete the mechanism for fighting against and preventing relics thefts. We will crack down on the whole market chain, including the trading of the relics and organized thefts. All involved offenders will face criminal liability."
Meanwhile, US authorities said Michael Rohana, 24, from the US state of Delaware, was arrested in connection with the theft and released on $15,000 bail, on the condition that he surrender his passport, consent to drug testing and refrain from leaving the country before trial.
Museum staff members noticed the missing thumb on Jan 8, and a special agent from the FBI's Art Crime Team tracked down Rohana days later.
Huo Yan in Xi'an and Xinhua contributed to this story.