Lunar New Year celebrated with Chinese cuisine at Olympics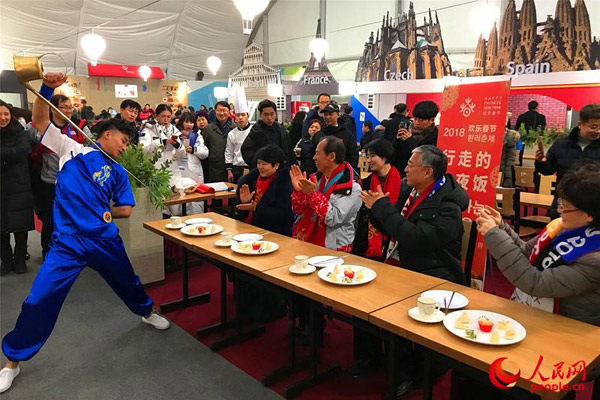 Athletes and visitors to this year's Winter Olympics in Pyeongchang, Republic of Korea are being treated to a feast of Chinese cuisines in celebration of the upcoming Chinese Lunar New Year.
The Walking Reunion Dinner on Chinese Lunar New Year's Eve gourmet event kicked off on Feb. 11 at the Olympic venue's global gourmet culture hall as part of the 2018 Happy Chinese New Year cultural celebrations initiated by China's Ministry of Culture.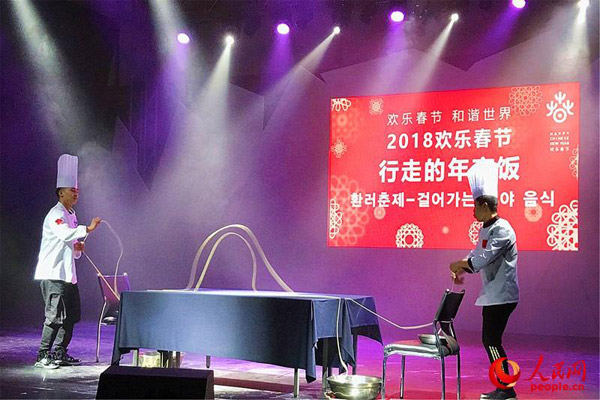 The event, which features culinary specialties, delicacies and performances, is intended to promote Chinese culinary culture during the international sporting event.
With joint efforts from the World Federation of China Catering Industry (WFCCI), the Chinese Cultural Center in Seoul and China's Ministry of Culture, the event has opened as a showcase of special Chinese delicacies highlighting a full array of Shaxian Snacks, a style of cuisine from Sha county in East China's Fujian province. Food prepared by chefs from the Chinese gastronomic cultural delegation attracted great attention from guests and visitors.
Culinary culture-themed performances, including blindfolded carving, shredding pork on balloon, dancing with noodles, tea-pouring show and pots and pans acrobatics, were also staged to shore up the festive atmosphere.
The Spring Festival, or Chinese Lunar New Year, falls on Feb. 16 this year.