Japanese pleads innocence in Games' first doping case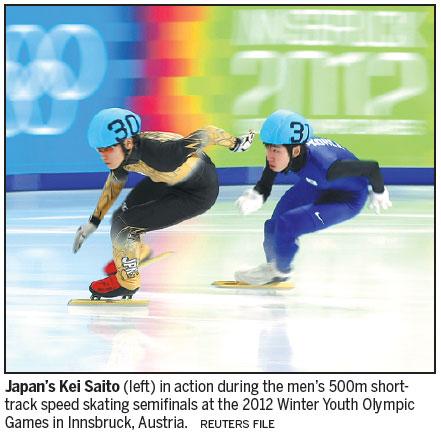 PYEONGCHANG - Japanese short-track speed skater Kei Saito failed an out-of-competition doping test on the day of his arrival at the Winter Olympics and has been expelled from the Games, Japan team officials said on Tuesday.
Saito, a reserve athlete who had not yet competed in South Korea, was provisionally suspended after testing positive for masking agent acetalozamide.
A final ruling will be issued after the Games, the Court of Arbitration for Sport said.
Masking agents are often used to cover up banned performance-enhancing substances.
This is the first doping case during the testing period of the Olympics and comes as a major embarrassment to Japan, which prides itself on its clean image and will host the 2020 Summer Olympics in Tokyo.
Team Japan officials said Saito was tested hours after arriving in the athletes' village on Feb 4.
The athlete said he was stunned by the finding.
"I am shocked by this as I have never tried to commit doping," Saito said in a statement.
"I have been trained in anti-doping. I have never taken a steroid so there is no need for me to mask something, and I never had to drop weight by using this medicine.
"So I have no motivation to use this. I want to prove my innocence but I do not want to burden my team so I accepted this decision."
Team chief Yasuo Saito said the athlete tested negative at a training camp on Jan 29 on the order of the International Skating Union (ISU).
"We respect the athlete and his will and intentions, and in conjunction with the Japanese skating federation we will continue to look into this matter with all our means," Saito said.
The team chief said it was "inexplicable" how the athlete could have tested positive, but in order not to burden his teammates he agreed with the International Olympic Committee proposal to have him removed from the Games.
He added that while the suspension was only provisional it was better for the athlete to leave as there was no time to clear his name.
"There was no opportunity to prove his innocence during the Games," said Saito.
"It was a difficult decision, one he did not want to take, but he accepted to leave the Olympic Village so as not to cause problems for his fellow team members."
Doping cases are rare among Japanese athletes and this is a first for the country at a Winter Olympics.
Last month, however, sprint canoeist Yasuhiro Suzuki admitted to spiking a rival's drink with an anabolic steroid to scuttle his Olympic dream, and was banned for eight years.
Suzuki now faces a lifetime ban from the Japan canoe federation.
The IOC and anti-doping authorities have stepped up testing for the Pyeongchang Games following revelations of a state-sponsored doping scheme at the last Winter Olympics in Sochi, Russia in 2014.
The entire Russian team was banned from Pyeongchang but a loophole allowed 168 "clean" athletes to compete under the OAR (Olympic Athlete from Russia) banner.
Reuters