Ex-NHLers guiding Korea's puck luck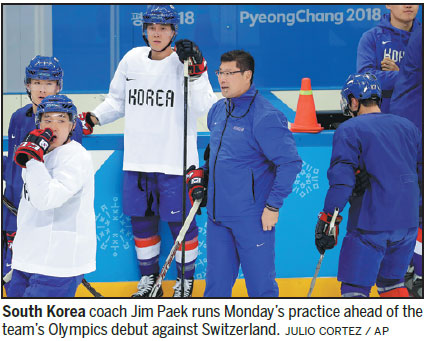 Paek and Park on a mission of 'respectability' in their homeland
GANGNEUNG, South Korea - Playing parts of six NHL seasons and winning the Stanley Cup twice, Jim Paek saw hockey at its highest level.
When he returned to his native South Korea to take over its men's national team, he saw the game at an almost unacceptable level. Paek inherited a program that lacked the basic necessities of the sport, let alone the talent to compete internationally.
"We didn't even have a skate sharpener," Paek said on the weekend. "That's how small our country is for hockey."
South Korean hockey has come an unimaginable distance over the past three-plus years with Paek and fellow former NHLer Richard Park - both of whom were born in Seoul - in charge of bringing everything from the equipment and the locker room to the quality of play up to speed in time to take part in the Olympics as the tournament host.
"Without Jim and Richard, it wouldn't be what it is," goaltender Matt Dalton said.
"They've added so much professionalism ... and respectability. Whatever they've done, in Korean hockey no one's ever come close to that. When they talk, people listen, and rightfully so. They should."
People had to listen because simply being the host country wouldn't have been enough for the Koreans to play at these Olympics without vast improvement.
Paek had to present an extensive plan to the International Ice Hockey Federation about how the country would develop players, coaches, officials and its entire organization.
Conceding the cupboard was "pretty bare," Paek, 50, had to pretty much start from scratch. Dalton used to have to ask opposing teams' managers to sharpen his skates for him. It was like playing for a pee-wee team.
"We had gear that was used and was handed down from team to team and you had to turn your gloves and helmets back in after the season," forward Mike Testwuide said.
"It was just something you kind of had to deal with. But now it's amazing how far we've come."
South Korea jumped up two divisions in international play with Paek approaching the task like running an elite company.
Paek, who spent much of his life in North America, won the Stanley Cup in 1991 and 1992 with the Pittsburgh Penguins. He left a job with the American Hockey League's Grand Rapids Griffins to take over the South Korean team.
"We have to think like a top-nation team," Paek said. "In order for us to be here, we have to think that way. If we think we're always a bottom-feeder, then we'll always be a bottom-feeder."
His team is still one of the longest of the long shots in the 12-team tournament, especially in a group with Canada, Switzerland and the Czech Republic. It lost 8-1 to OAR (Olympic Athletes of Russia) in a pre-Games exhibition, evidence of just how big a leap this is from the team's usual competition.
Paek understands that. Just getting to this point was tough work, so the team's first Olympic game on Thursday against Switzerland marks an important milestone in the nation's sporting history.
"You're full of many emotions: every emotion you can think of," Paek said.
"It's incredible how far Korea has come, how they've opened their minds to this wonderful sport is fantastic and to be a part of this is incredible. It's a dream."
It's a dream coming true because of Paek, who Testwuide called a "trailblazer". That's nothing new for the first South Korean to play in the NHL.
"Jim was with the Detroit Red Wings organization, which has done a tremendous job the last 20 years of developing players and people," defenseman Eric Regan said.
"He's incorporated a lot of the things he learned and his own ideas on our team. You can just tell the last four, three years, the team has really excelled."
It took stops at tournaments in Hungary, Poland and Ukraine to make this possible. That was part of Paek's plan.
Now in his 10th year playing for Korea, Canadian forward Brock Radunske has seen the climb from virtual anonymity to the Olympics.
"We had to start from pretty far down there (in 2014 as) maybe not quite as much of a traditional hockey country," Radunske said.
"We were able to have success there starting that year and haven't looked back since."
Associated Press