State Grid in clean energy push
Share - WeChat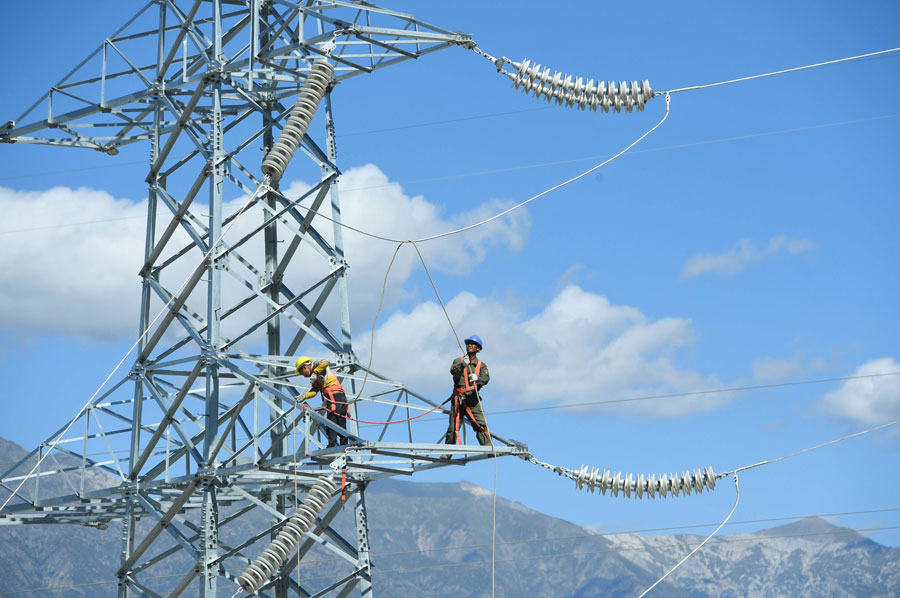 Company to step up efforts for a unified national power market
State Grid Corp of China will further push for a unified national electricity market in 2018, as part of its efforts to deepen power sector reforms, according to the company.
The country's largest grid operator and power distributor plans to expand the inter-provincial trading of new energy to meet the country's booming electricity demand and cut pollution.
The company will also further improve the transmission ability of its power grid by putting more ultra-high-voltage direct current lines into operation and upgrading the capacity of existing lines.
State Grid will finish the construction of the Zhundong-Wannan +1100 kV UHV direct current power transmission project this year. The +800 kV Shanghaimiao-Shandong power transmission project will also start commercial operation in 2018.
The company has significantly increased the utilization rate of renewable energy through increasing cross-regional trade of new-energy electricity.
Inter-provincial trading of electricity from new-energy sources increased 35.6 percent year-on-year to 49.2 billion kilowatt-hours in 2017, while the curtailment rate of wind and solar power decreased 5.3 percentage points last year.
In 2017, the company invested 9.5 billion yuan ($1.5 billion) in connecting new energy to the grid and building new-energy transmission projects.
Combined installed capacity of wind and solar power amounted to 240 million kilowatts by the end of 2017, up 33 percent from a year earlier, accounting for 17.7 percent of the company's total power capacity, according to the company.
State Grid already operates the world's largest wind and solar farms, yet more efforts are needed to transport that supply across the country, said Han Xiaoping, chief information officer of China Energy Net Consulting.
"Renewable energy is often generated in western and northern regions, which are far from the cities and industrial centers in China's central and eastern provinces that consume it," Han said.
Thus, the UHV power lines across the country, which efficiently send renewable energy over long distances, are important to boost renewable energy and drive down carbon emissions, he said.
The country's two major power grid operators, China Southern Power Grid Co Ltd and State Grid Corp of China, started construction on UHV direct current transmission lines in 2005 and have successfully built 11 project lines.
State Grid lowered the power purchase cost for users by 73.7 billion yuan in 2017 through carrying out various reform measures, including increasing direct electricity trade, lowering the cost for commercial power use and supporting the building of an open market for power distribution investment.
Its profits increased 4.4 billion yuan to 91 billion yuan in 2017. Revenue increased 10.9 percent to 2.32 trillion yuan during the same period.