200m shares of debt-laden Leshi start trading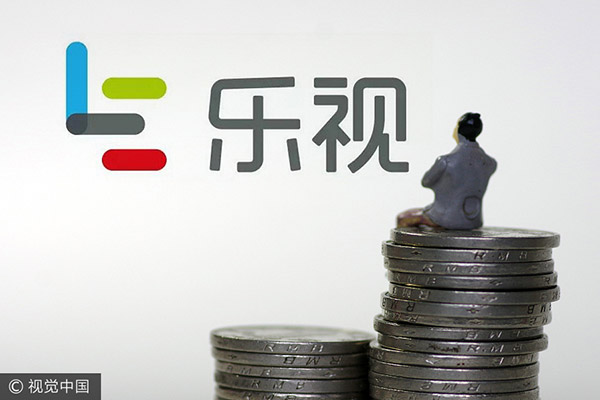 The restricted shares of Leshi Internet Information and Technology, the listed arm of debt-laden technology company LeEco, became tradable on Thursday, according to the company's announcement.
The restricted stocks, 213 million in total, or 5.35 percent of Leshi's share, were acquired by China Post Fund, Harvest Fund, Caitong Fund Management Co Ltd and Zhang Jianping, a non-institutional natural person account, through a private placement in August, 2016, Shanghai Securities News reported.
Given the original price was 45.01 yuan per share at that time (the price after the restoration of rights was 22.5 yuan per share), the four shareholders' aggregated loss reached 3.766 billion yuan at Wednesday's closing price of 4.85 yuan, the report said.
At the evening of Wednesday, Leshi announced it received a notice from financial service company CR Trust, the manager of Leshi's first employee stock ownership plan, China Securities Journal reported.
CR Trust informed Leshi it will early terminated the trust plan due to Leshi's fundamental changes and Leshi Holding (Beijing) Co's failure in fulfilling its obligation of adding fund. And it will assign the trust plan asset to the beneficiaries in its original condition.
On September 8, 2016, Leshi adjusted its first employee stock ownership plan, changing the pool plan preferred shares and posterior shares to 1:1 and keeping the upper limit of the shares at 510 million, China Securities Journal reported.
According to Leshi's announcement, CR Trust affirmed assets involved in the plan totaled at 21.9071 million shares of the listed company, which accounted for 0.5491 percent of the company's total shares.
Since its shares resumed trading from January 24 after being suspended trading since April last year, Leshi's shares traded in the Shenzhen Stock Exchange had dropped by the 10-percent daily limit for 11 straight days.
In its announcement, Leshi reiterated eight major risks faced by it at present, which include changes in the company's real controller and the problem of its related parties in retrieving receivables.
At present, Leshi's largest shareholder Jia Yueting holds 1.024 billion shares of the company, which account for 25.67 percent of its total shares.
The company was expected to suffer an annual loss of 11.605 billion yuan to 11.61 billion yuan in 2017, of which 3.7 billion yuan were operational losses, the report said.
As of September 30, 2017, the ending balance of Leshi's currency fund at the third quarter was 834 million yuan, National Business Daily reported.
Mired in the debt crisis, Leshi said it has owed a large number of arrears to its upstream suppliers that it cannot pay and is facing problems such as default and litigation.
On Tuesday night, Dongyang Kingrain Media Co Ltd, one of Leshi's creditors, announced it received a debt of 155 million yuan from Leshi and its subsidiaries according to their agreement.
Listed company Ciwen Media and Huace Group also received repayments from Leshi.
The report said some fund companies valued Leshi's share price at 3.91 yuan, which means the company will continue to plunge to daily limit for 13 straight days.
By 14:00 Thursday, Leshi's share price rose to 5.21 yuan from Wednesday's closing price of 4.85 yuan.