Center to fast-track private disputes arising from China-Kenya trade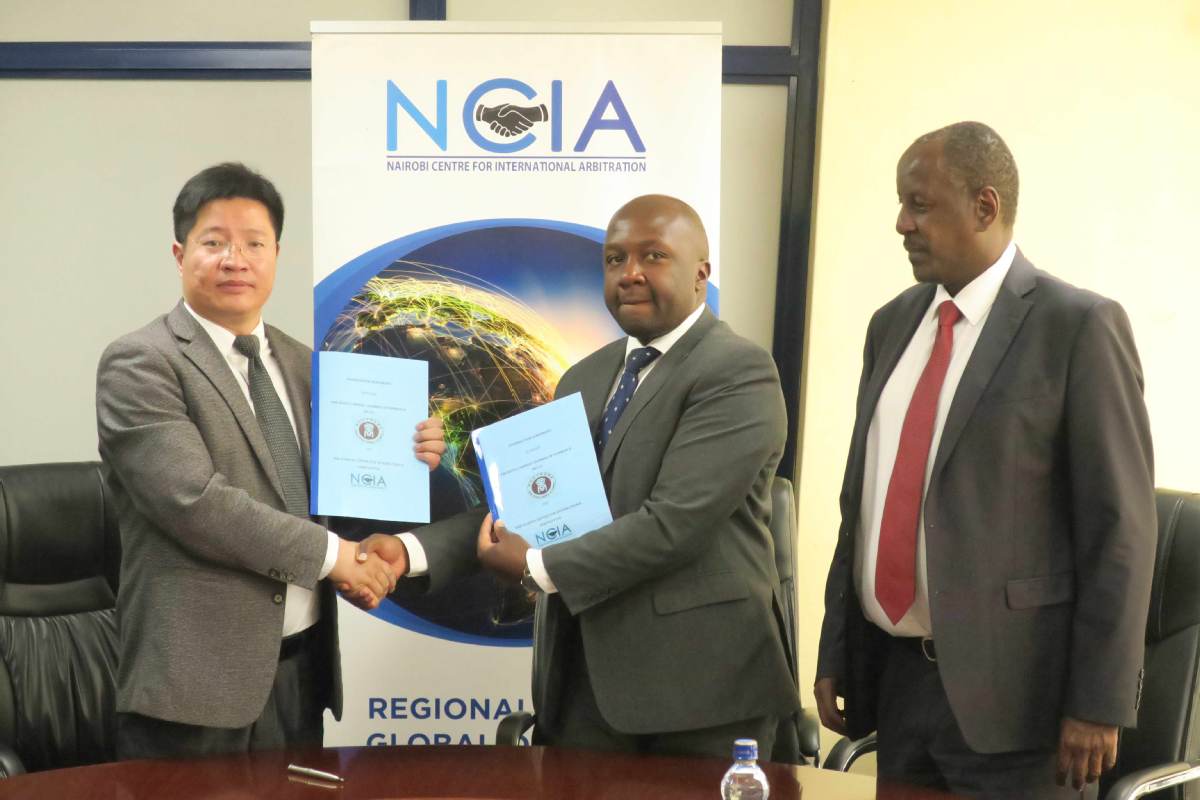 Trade disputes between Chinese and Kenyan entrepreneurs will now be fast-tracked thanks to a memorandum of understanding signed Tuesday in Nairobi, Kenya.
The Nairobi Center for International Arbitration (NCIA) will now provide resources for members of the Kenya Chinese Chamber of Commerce (KCCC) to resolve trade disputes with their Kenyan counterparts amicably and fast, meaning fewer cases will be forwarded to the courts that have previously been accused of sluggishness, leading to loss of investments.
While inking the deal, Lawrence Muiruri, the registrar and chief executive officer of NCIA, said that the strategic collaboration would render mutually beneficial assistance aimed at progressing the two institutions.
"We appreciate the role played by Chinese investment community and the KCCC in building the economy of this country. With the knowledge that these investments are implemented through contracts that are prone to breach, the NCIA is pleased to offer a neutral ground for resolution of any disputes that may arise and their administration thereof," he said.
Besides offering capacity building to the Chinese business community, the CEO said that the MOU is an assurance that disputes will be resolved professionally and hopes that the deal will set a basis for the solid and long-term cooperation between the two institutions.
Arthur Igeria, the chairman of NCIA, said the center seeks to be a key player in the growing China-Kenya business relations and the board was committed to creating an enabling environment for the success of this initiative.
He revealed that the center is a member of the China-Africa Joint Arbitration Centers, which is an initiative of China Law Society and includes arbitration centers in China such as the Beijing International Arbitration Centre and the Shanghai Centre for International Arbitration . A similar center is established in Johannesburg, South Africa.
"NCIA is committed to the consensus of the Belt and Road Initiative to create a conducive environment for the effective use of win-win dispute resolution for China-Africa business community," said Igeria.
For his part, the Chairman of KCCC William Zhuo said the deal will strengthen cooperation between the two institutions and make full use of the advantages of both sides to strengthen cooperation in trade and investment as well as the provision of legal services in commercial affairs.
"It addresses the needs of Chinese enterprises and provides key services that gives full play to the working resources of the KCCC to helping Chinese enterprises understand the laws and better integrate into the local environment," said Zhuo.