Consumption to bolster GDP growth
Share - WeChat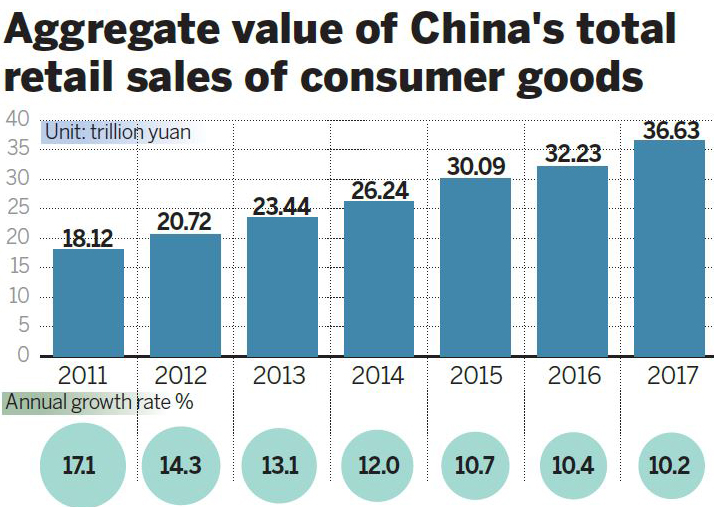 Consumption will continue to play an integral role in boosting China's economic development and contribute over 60 percent of GDP growth, a new report said.
The country also made considerable progress in services and innovative commodity consumption last year, two sectors that are expected to provide the much-needed momentum for the upgrade and growth of the sector, the China Council for the Promotion of International Trade Academy (CCPIT Academy) said in its report on Tuesday.
Total retail sales of consumer goods are estimated to reach 40 trillion yuan ($6.35 trillion) in 2018, with a nominal annual growth rate of about 10 percent and continuing the sequential growth trend of the last 14 years.
According to CCPIT Academy, consumption has increased in the country largely due to increases in average income levels.
"China is now in the group of middle-income countries. As a result, both the growth rate and the percentage of commodity consumption have been declining with service consumption the lone bright spot and the mainstay of the economy," it said.
Experiential consumption, or consumption driven by the desire for memorable experiences, as part of service consumption, has been growing steadily in China. Consumption pertaining to e-commerce, such as buying products from self-service supermarkets, purchasing flowers online are expected to trigger the consumption spree in this sector, said Zhao Ping, director of the international trade research department at CCPIT Academy and the author of the report.
"Besides, as artificial intelligence, cloud computing and big data technologies mature, the innovative commodity consumption sector, such as smart homes, and internet-connected cars, will see lots of growth," she added.
Ning Jizhe, head of the National Bureau of Statistics, said that domestic demand has always been a crucial pillar for China's economic growth.
"The world is yet to recover from the aftershocks of the financial crisis, and the international economic situation is still fluid. So China's economy mainly relies on domestic demand-led growth.
"From 2013 to 2016, the annual contribution rate of domestic demand to economic growth surpassed 100 percent, and the figure for the first half of 2017 was 96 percent. The potential of the nation's domestic demand is still very great," Ning said.