China may overtake UK in wine consumption
Share - WeChat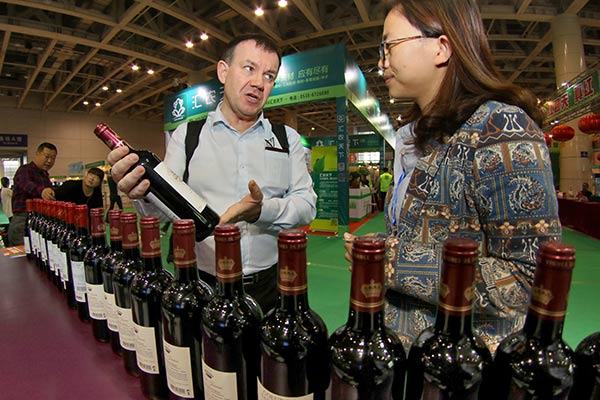 China is likely to displace Britain as the world's second largest wine consumer, in terms of value, by 2021, according to research from Vinexpo, one of the largest exhibitions for wine and spirits professionals globally, and the UK-based International Wine and Spirit Research.
The growth rate of the Chinese wine market is estimated to exceed 30 percent over the next five years, starting from 2017 onward, and attain a size of $23 billion in 2021, second only to the US.
"The growth of value (in China) is mainly led by the increase of volume," said Guillaume Deglise, CEO of Bordeaux, France-based Vinexpo, at a news briefing in Shanghai.
In mature markets such as France and US, a more sophisticated consumption behaviour is occurring as people are buying fewer, but better products, Deglise said.
Wine priced between $5 and $20 per bottle remains the dominant choice of Chinese consumers. The premium sector, which means wine priced at $10 to $20 per bottle, saw year-on-year growth of 11.4 percent in China during 2017, while the super-premium, meaning those priced over $20, increased by 1.8 percent only.
Despite the robust growth of China, which, together with the US, helped turn the tide from sluggish sales in Europe, annual per capita consumption in the world's most populated country is "incredibly low", at around 1.4 litres per year, which is less than two bottles.
"It's a good problem to have. Should China drink like Australia (28.9 litre per year per person), we will see a great shortage of wine producers," said Deglise.
But not every wine producer is or will be benefitting from China's whetted appetite for the beverage. The country's domestic manufacturers are actually suffering consecutive declines.
Vinexpo forecast that by 2021, domestic wine consumed by Chinese people would be around 1.01 billion (9-litre) cases, down from 1.1 billion cases in 2016.
Latest figures from the National Statistics Bureau showed that in 2017, China produced one million kiloliters of wine, down 5.3 percent year-on-year. It also marked the fifth year that domestic wine production fell after the central authorities' anti-corruption campaign hit sales.
While consumption has been gradually picking up over the past two years, mainly by what industry insiders called "real drinkers" instead of gift-givers or banquet-hosts, imported wines have become the key growth engines of the market.
A consumer survey by UK consultancy Mintel showed that origin of the wine was the most decisive factor for Chinese consumers when picking a bottle, and France remains the most popular country of origin for them.