Eat beat
Onyasai makes China debut
In January, leading Japanese shabu-shabu brand Onyasai opened a new restaurant in Beijing, its first outlet on the Chinese mainland. Since it opened its first restaurant in Toyko back in 2000, Onyasai now has more than 350 branches across Japan. Selected beef short ribs have to be ordered individually while Matsusaka pork shoulder, mutton, Australian beef brisket and other quality meats are all presented as buffet options, together with dozens of vegetables and snacks.
5th Floor, Century Golden Shopping Mall. No 1 Yuanda Road, Haidian district, Beijing. 010-8846-9710.
Retro Hong Kong dining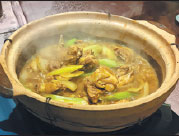 Hong Kong style catering Rouge restaurant is a great choice for winter dining in the capital. Shitangzui, the Mandarin name of the restaurant is named after Hong Kong's Shek Tong Tsui district, and it's decorated like a Hong Kong canteen from the 1990s. The Cantonese rendition of hotpot with chicken or mutton as a base served in a clay pot on a gas stove, leaves each cut of meat coated with the rich, tasty broth. Dim sum is another example of Rouge's attention to authentic Hong Kong flavors.
Building 10, Electric Research Institute. Courtyard 4, Gongti Beilu, Chaoyang district, Beijing. 010-8587-6866.