Aerospace firms explore China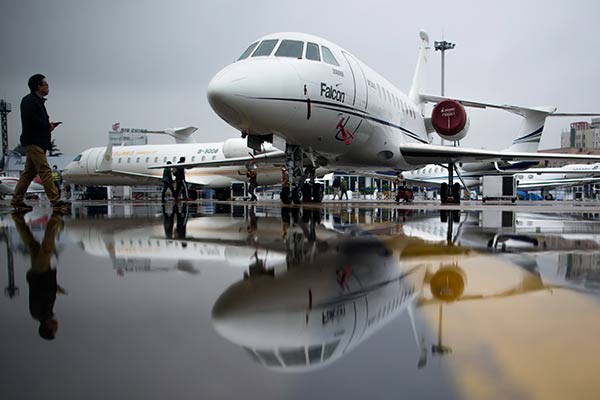 BEIJING-China's vast market and surging demand in the aerospace sector is inspiring more European companies to strengthen their presence in the country.
They are flocking to China with custom-built products and services, accepting new orders and service contracts, and ramping up production at their local facilities.
Eutelsat Communications, one of the world's leading satellite operators, signed an agreement with China Unicom during the state visit of French President Emmanuel Macron to China from Jan 8 to 10.
"China Unicom is our ideal partner for promoting satellite communications in the Belt and Road regions. The agreement aims at addressing the fast-growing market in the Asia-Pacific region," said Rodolphe Belmer, CEO of Eutelsat.
Both sides will jointly leverage resources to enhance in-flight connectivity services from the west coast of North America to Asia, and down to Australia. They will also consider further developing satellite communication services across the globe.
Meanwhile, China Aerospace Science and Technology Corporation or CASC and Dassault Aviation signed a cooperation framework agreement, targeting efficiency and integration improvements in China's manufacturing industry.
The two companies have set up joint ventures and will provide information, as well as digital and consulting services, with customer-oriented research, design, simulation, manufacturing and management.
In the aviation sector, the world's leading aero-engine manufacturer CFM International concluded agreements of various kinds for new engine orders and long-term support agreements covering nearly 500 CFM engines. The total value of the agreements is $9.1 billion at list price.
CFM International signed a purchase agreement with Spring Airlines, China's low-cost airline, with a contract price of $2.9 billion. It also signed an agreement with Xiamen Airlines, which entails the purchase of 150 aero-engines and the over-haul of 20 aero-engines, with a total value of $2.05 billion.
Its $4.2 billion agreement with China's Hainan Airlines is for new and spare engines and long-term support. "Our relationship with the Chinese aviation industry goes back more than 30 years, not only as a customer base but an important supplier base," said Philippe Petitcolin, CEO of CFM's parent Safran.
"The new agreements strengthen our commitment to China and solidifies our relationships with our customers there, providing a strong foundation for even more cooperation in the future."
Airbus on Jan 16 signed an agreement with the National Development and Reform Commission of China on further development of industrial cooperation in Tianjin.
Both sides agreed to further enhance their industrial cooperation by strengthening technical innovation, engineering capabilities and supply chain expansion.
"China has the ambition to develop its aviation in both the civil aviation and the manufacturing sector. To us, it is win-win cooperation," said Francois Mery, chief operating officer of Airbus Commercial Aircraft China.
On the same day, Airbus and its Chinese partners also signed a framework agreement on ramping up its A320 production rate at its Final Assembly Line in Tianjin to six aircraft per month.
"China is more and more important to Airbus. Airbus not only sells aircraft here, but also targets a vertical integration in cooperation with China," Mery said.