Quenching the nation's new found thirst for ale
Share - WeChat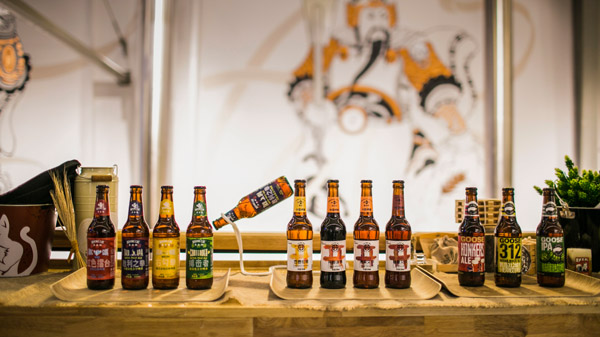 A new brewery based in Wuhan dedicated to craft beer-making aims to tap into China's growing demand for bespoke brews
Even during the freezing winter months, nothing seems to stop Chinese beer lovers from grabbing cold brew from the fridge and enjoying a spicy hot pot or barbecue dinner with friends.
China has grown to become the world's largest consumer market for beer, and people nowadays have more diversity than ever to meet their ever-growing tastes. Whether you fancy a glass of the Chinese staple, Tsingtao, or prefer a flavored Indian Pale Ale imported from Britain, there are always pubs, bars and online stores offering a multitude of different beer options.
And last week, a new brewery opened in China by Anheuser-Busch InBev looks set to bring the art of craft beer making even closer to Chinese consumers.
The central city of Wuhan, Hubei province, was selected by the world's largest brewer as the site for its new brewery dedicated solely to making craft beer, the first of its kind in the Asia-Pacific region.
ZX Ventures, the craft beer division of AB InBev, opened the doors to the new facility in Wuhan last week, where it began to produce tipples from three of its leading breweries - Goose Island, Boxing Cat and Kaiba. The classic Goose IPA is an American take on a traditional English IPA, fuller-flavored with bright citrus aromas and a bold hop finish. Hop bitterness is balanced out by biscuity malts, while retaining a smooth and light body.
At the newly-launched brewery, the pleasant aroma of malt mixing with a range of natural flavorings are enough to whet the appetite of any beer lover. With the fully automated brewing machines imported from Germany, the giant shiny fermenting tanks crank into action.
During the brewing process, a professional team from the Belgium-based multinational will be on hand to provide guidance throughout the process to ensure that quality is strictly maintained.
Most Popular