'This Is The Time,' says A&F head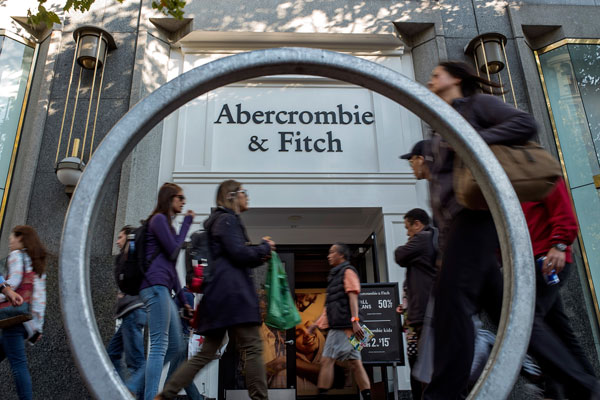 Popular apparel brand returning to Hong Kong, eyeing expansion as young buyers become increasingly fashion conscious
Abercrombie & Fitch Co, one of the largest apparel firms in the United States, is finding many opportunities in the Chinese mainland market, as youngsters there become more fashion conscious and less price sensitive.
Founded in 1892 in New York by David T Abercrombie and Ezra Fitch, A&F was originally an elite outfitter of sporting and excursion goods before it gradually shifted to upscale casual wear for young customers. The Ohio-based brand, which to this day revolves around experience and adventure, has two offshoot brands-Abercrombie Kids and Hollister.
A&F and other teen-oriented retailers have faced headwinds from growing fast-fashion chains, the booming of e-commerce globally and geopolitical uncertainties that have weighed on the sector for the past few years.
In 2016, A&F closed its four-story flagship store in Central, Hong Kong, for which it paid rent of HK$7 million ($895,057) per month. US fashion brands Forever 21 and Coach also announced they were quitting the city amid the lukewarm retailing environment still reeling from the drop in mainland tourists after the "Occupy Central" issue.
But, as the retail environment picked up in 2017, A&F came back to Hong Kong, opening a new store in the iconic Harbor City mall. The brand is also steadily expanding in the broader mainland market.
After two years' negative same-store growth, A&F saw healthy quarterly results in the third quarter of 2017, with overall same-store sales up 4 percent. Hollister was the key revenue contributor in recent quarters, gaining 8 percent.
A&F Chief Executive Fran Horowitz, who took the top spot in February 2017, shared her perspective on how she steered the group through the lukewarm retail environment, her business growth strategy in Hong Kong and the overall Chinese economy.
A&F just posted a good quarterly result after more than two years' negative growth; how did you manage to bring the brand back on track?
Those results are driven by a combination of A&F as well as Hollister; Hollister was up 8 percent in same-store sales, A&F was still a little bit negative but much improved from prior quarters.
We are really focused on the products and knowing our customers better. The brands have gone through quite a few changes as we gave them unique identities. Hollister, a teen brand, has the spirit of California that everybody wants to be part of. For A&F, we want to say it has grown up a bit. Our target customers are 21 to 24 years old, post-college and just starting their careers, starting being in a new city and meeting new friends.
We have also changed our relationship with consumers. In the past, our experience was the store itself, what we called presentation, which is the way the store looked, the way the associates looked; now, it is much more important to ask how to keep customers at the center. In our new store in Harbor City, for example, we have fitting-room suites where customers and their friends can have a separate fitting room to share what they are wearing and take selfies. The combination of experience and products are really helping the business to get better.
A&F closed the four-story flagship store in Central, Hong Kong, in 2016. Is the new store in Harbor City a vote of confidence of Hong Kong's retail environment?
Absolutely, we are thrilled to be back in Hong Kong. We only closed the store in Central because unfortunately, the store was not financially working, in terms of the rent, the size of the store and the amount of business we do. Our new store in Harbor City is smaller than the previous one. Our goal is to be more productive with less square footage. We currently have three Hollister stores in Hong Kong. In the next few years, we are still looking for opportunities to open more A&F as well as Hollister stores in the city.
What opportunities have you seen in the Chinese mainland market and what is your strategy for expansion?
The mainland market has been the most consistent growth market in the past few years. When we open in the mainland, we own all our stores. We don't franchise or wholesale them, and we are very profitable in the mainland. We currently have 10 A&F stores, one Abercrombie Kids store and 17 Hollister stores in the mainland. We launched A&F on Tmall (one of China's largest business-to-consumer marketplaces) in July 2017, and we are very excited to see that Singles Day sales beat our expectation considerably. We see great opportunity in Tmall to grow our business.
We are still learning about the market so we don't have a specific expansion target. Tmall is teaching us a lot; for example, customers seek different things on Tmall than from our stores. One of our best items on Tmall, for example, is our men's polo shirt, while in our stores, the most popular items are knits and sweatshirts. We have to be very specific about targeting our assortment to make sure we understand consumers.
The country itself is undergoing a tremendous mall expansion. We have to make sure we are in the right malls. We don't want to expand too quickly while not knowing where we are. I think we are taking a measured approach in the expansion.
What's your understanding of Chinese consumers and how can you compete with domestic competitors that usually offer lower prices?
We don't want to compete with fast fashion. We want to offer a brand that represents quality and values to consumers. And we don't see that Chinese consumers are that price-sensitive today.
They love fashion and they love the brand. Those two things come together perfectly for us.
What's exciting about A&F is we are 125 years old. The brand originates in experience and adventure, and that's where consumers are today.
We try to understand our customers better. We localize some assortments, for example, the consumers here like logos, then we put more logos. Chinese consumers have been long supporters of our brand and we love them. It's a nice marriage, you could say.
A&F has played down its iconic sexy advertising such as the use of topless male models; what kind of brand image do you want to build among Chinese consumers today?
We are very proud about our new campaign. It is called "This Is The Time". It represents that our consumers, 21 or 23, 28 or 35 years old, are learning about life, staying up all night, starting a new job, dating all the wrong people or doing things in their life that they understand are one-time only. We feel like we are really hitting a sweet spot with such consumers.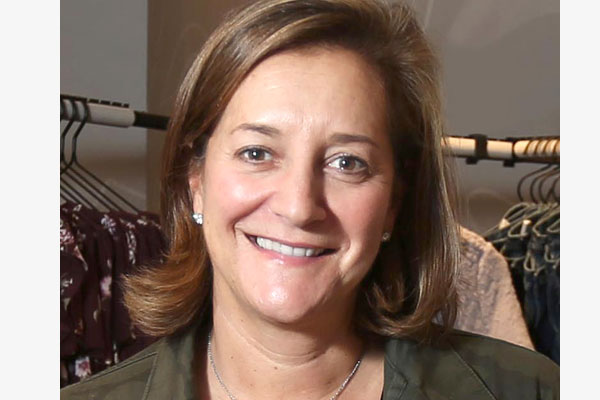 CV
Name: Fran Horowitz
Nationality: US
Career:
2017 onwards: CEO of Abercrombie & Fitch Co
2015: A&F president and chief merchandising officer
2014: Brand president of Hollister
2013: Brand president of Ann Taylor Loft
2005: Executive vice-president of Women's Merchandising and Design, Express Inc
Education:
1990: MBA from Fordham University
1985: Lafayette College
Family: Married with two children