Bolivia, China see closer ties through hydropower co-op
Share - WeChat China and Bolivia have witnessed a closer cooperation in the energy sector as a leading Chinese construction corporation helped build a hydroelectric station in the South America country.
Bolivian President Evo Morales and Liang Yu, Chinese ambassador to Bolivia, attended the operation ceremony of the San Jose 1 hydropower station on Jan 17, which was built by the Power Construction Corporation of China (POWERCHINA).
Founded in Sept 2011, POWERCHINA boasts comprehensive and full-range of services from planning, investigation, designing to consulting and civil works construction services in the fields of hydropower, thermal power, new energy and infrastructure. Besides, the corporation is improving and expanding its scope of businesses into real estate, investment, finance and O&M services, according to the official website.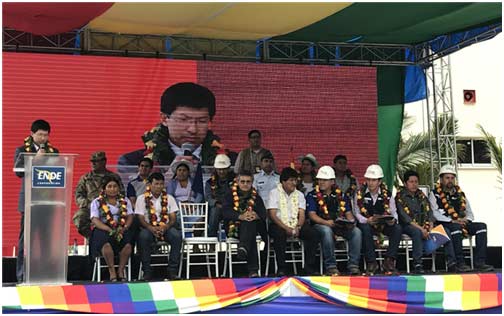 "The past few years have witnessed a strong relationship between the two countries," said Liang. "The bilateral cooperation has been steadily promoted in various fields."
Hydropower, as a clean energy, is cost-effective and benefits the economic development.
"The San Jose 1 hydropower station will boost local employment and improve living standards," Liang said at the ceremony.
"China will continue to help Bolivia in implementing its strategy of becoming the 'energy center in South America'. We will strengthen cooperation in various fields under the Belt andRoad Initiative, and push for deeper bilateral relations," Liang added.
Initiated in 2013, the China-proposed Belt and Road Initiative seeks to strengthen connectivity among Asia and other regions in infrastructure investment.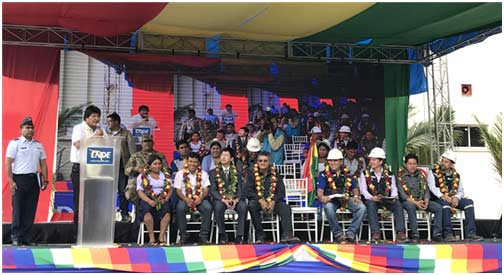 Morales visited the project several times during its construction period and said that he is satisfied with the development of the project.
"The project will help our country optimize our energy structure and enhance our power export capacity, providing a strong backup for the implementation of the 'South American energy centers' strategy in Bolivia," Morales said.
He added that Bolivia is deeply grateful for the efforts and help of China, and is committed to maintaining closer ties with China to deepen cooperation, so as to benefit both the nations and their people.
The San Jose 1 hydropower station, with a total investment of $139 million and a total installed capacity of 55 megawatts, is expected to save Bolivia $6 million electricity costs every year.