Suppliers target China's e-mobility market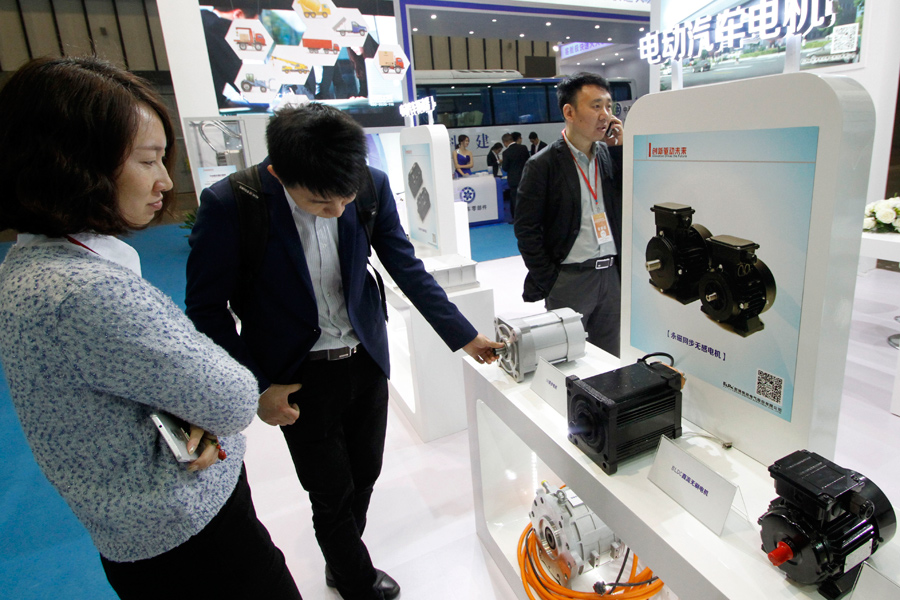 International automotive part suppliers are seeking opportunities to tap into China's fast-growing new energy vehicle market that is currently dominated by local companies.
In the segment of passenger cars, for example, a total of 454,300 electric motors were sold in the first 11 months of last year, of which 92 percent were from Chinese companies, according to industry website Ofweek.
The new energy vehicle market, which is expected to see sales of at least 1 million cars this year, is attracting international brands to partner with local automotive part suppliers.
Canada-based Magna International is building a 2 billion yuan ($308 million) joint venture with Huayu Automotive Systems Co, a subsidiary of SAIC Motor, according to a deal the two signed in October 2017.
"China is the No 1 growth market in the world, and they have been clear about their intended leadership in bringing hybrid and electric vehicles to market," said Don Walker, Magna CEO.
Initially, the joint venture will produce electric powertrains for Volkswagen's two Chinese joint ventures-SAIC Volkswagen and FAW-Volkswagen, with production expected to start in 2020.
It will also develop localized core competencies in terms of research and development, marketing and advanced manufacturing of key parts such as e-motors, which are key to advanced powertrain technologies.
"The establishment of the joint venture, a strong combination of HASCO and Magna's strength to initiate cooperation in electrified powertrain systems, has been a milestone for HASCO to develop its core competencies in the field of key new energy-related components," said Chen Zhixin, vice-chairman of HASCO.
Their partnership came on the heels of ZF Friedrichshafen AG's decision to deepen cooperation with Beijing Hainachuan Automotive Parts Co, a subsidiary of Beijing Automotive Group Co.
The two, which have been working on chassis, driving systems and new energy products, have decided to build a joint venture to produce electric powertrain systems for BAIC BJEV, a BAIC Group new energy car arm, and other carmakers in the country.
"China is the largest and most dynamic market for electromobility and is playing a key role in the rapid spread of this promising drive technology," ZF Production Director Michael Hankel said in a statement.
China has a goal to sell 2 million new energy cars a year by 2020 and expects such cars to account for 20 percent of total new car sales by 2025, according to an industry guideline released last year.