Affiliates key to Xiaomi's IPO dreams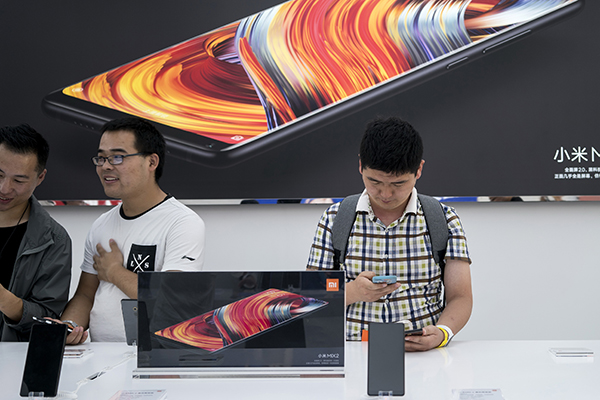 Tech giant to raise funds for bigger push in internet of things industry

As Xiaomi Corp scrambles to progress its reportedly $100 billion valuation initial public offering plan, how the Chinese tech giant deals with its more than 100 affiliated companies could determine its long-term value, analysts said on Monday.

Xiaomi, best-known as a leading smartphone vendor, has so far invested in 157 companies, most of which are consumer hardware manufacturers, according to ITjuzi, a China-based startups database.

The move is part of a broader push by Lei Jun, Xiaomi founder and CEO, to build an internet of things ecosystem, where its smartphones can control and interact with most appliances in the home.

The companies Xiaomi invested in last year-including makers of desk lamps, computers, rice cookers and self-balancing vehicles-generated more than 20 billion yuan ($3.16 billion) in combined revenue via Xiaomi's retail channels. In comparison, Xiaomi's own revenue passed the 100 billion yuan mark in the first 10 months of 2017.

Shen Meng, director of boutique investment bank Chanson & Co, said although 20 billion yuan is only a fraction of Xiaomi's total revenue at the moment, that proportion is expected to become increasingly larger in the coming years as more home appliances are internet-connected.

"Xiaomi has become a very productive investor, reshaping its image from just a smartphone vendor into something like Muji in the Chinese IT industry," Shen said. Muji is a Japanese retail company that sells a wide variety of household and consumer goods.

By the end of last year, Xiaomi said it had over 85 million electronic devices connected to its internet of things platform, with 10 million of them in daily active use. But as these companies both thrive and depend on Xiaomi's investment, user base, brand image and retailing channels, some of them are eager to become more independent.

Huami, a company that makes Xiaomi's wearable bands and smart watches, for instance, recently filed an IPO application with the United States Securities and Exchange Commission. Huami's filing shows that more than 80 percent of its revenue is generated via Xiaomi.

Shen said: "Xiaomi is both a big client and an important investor in Huami. Xiaomi's double roles in the company will make Huami less appealing to investors. They might have doubts about the fact Huami can easily transfer its profits to Xiaomi and harm their interests."

Xiang Ligang, CEO of telecoms industry website Cctime, said: "The global smartphone industry is slowing down, and the sprawling internet of things market is the future, especially given the commercial application of 5G.

"Xiaomi has already had an early start, but it will be challenging to maintain its relationships with the companies it has invested in. After all, most of them will want to establish their own brands and have greater autonomy once they get big."
Related story:
Huami public float to net $120m by Ma Si from China Daily

Huami Corp, a Chinese manufacturer of wearable devices backed by Xiaomi Corp, plans to raise up to $120 million in total proceeds from an initial public offering in the United States.

The Hefei, Anhui province-based company said in a filing with the US Securities and Exchange Commission that it aims to offer 10 million American depositary shares in an indicative price range of $10 to $12 apiece.

Huami, founded in 2013, makes Chinese smartphone maker Xiaomi's Mi smart wrist band, and also designs and manufactures smart wearable products under the brand Amazfit.

The company reported a profit of 95.4 million yuan ($15.1 million) for the nine months ended Sept 30, 2017, following a loss of 19.1 million yuan the year before. Its revenue for the period jumped 37 percent to 1.3 billion yuan.

Xiaomi is the biggest client and distribution channel for Huaimi's products, accounting for 82.4 percent of its sales in the first nine months of 2017. Meanwhile, two companies affiliated with Lei Jun, Xiaomi's founder and CEO, hold 39.7 percent of Huami's shares. In comparison, Huang Wang, Huami CEO, owns 39.4 percent of the company.