Nation leads shift toward renewables
Share - WeChat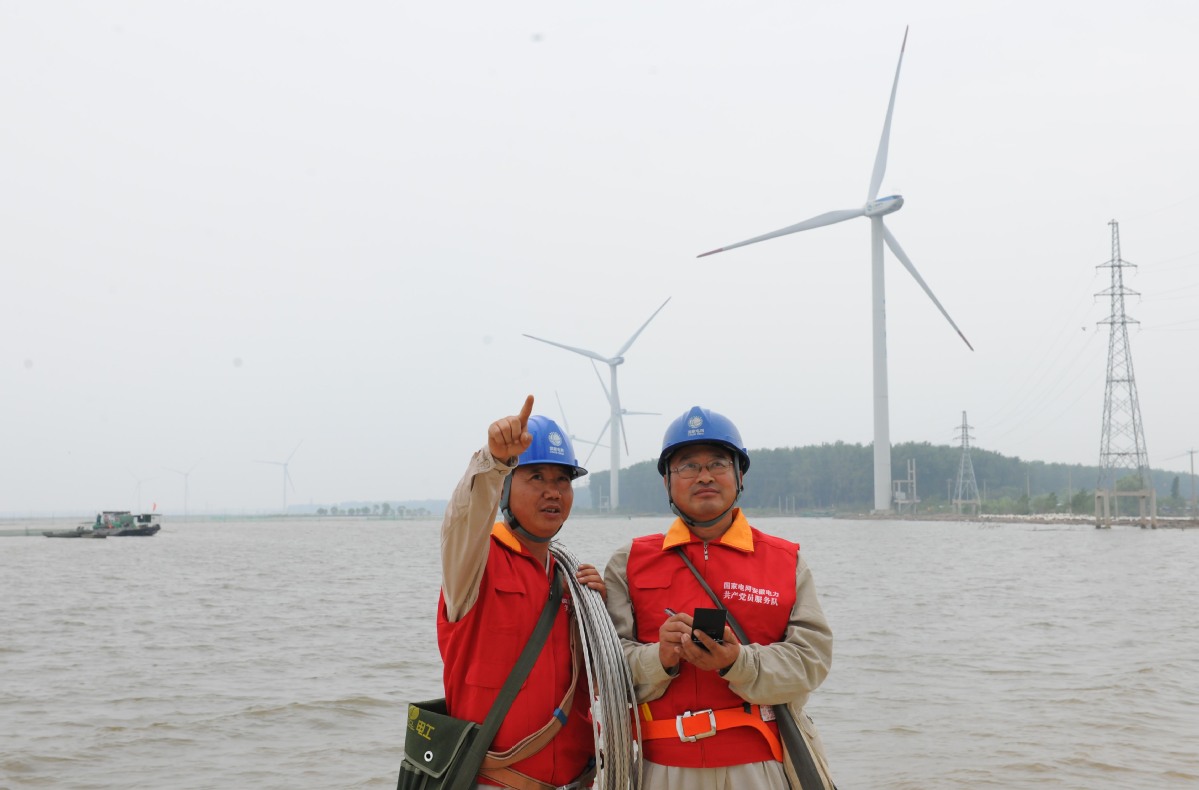 Clean energy sources make up 36.6% of the country's installed capacity
China is establishing itself as a world leader in renewable energy sources thanks to its ever-increasing installed new energy capacity, which soared to 650 gigawatts in 2017 for a year-on-year increase of 14 percent, according to the National Energy Administration.
The country's installed renewable capacity now accounts for 36.6 percent of the total installed capacity, a 2.1 percent year-on-year increase, the administration said on Wednesday at a news conference in Beijing.
China's clean energy drive will continue to grow for the foreseeable future, as the nation aggressively reduces its over-reliance on coal-power, said Joseph Jacobelli, a senior analyst of Asian utilities and infrastructure at Bloomberg Intelligence in Hong Kong. Solar power generation will also continue to steadily increase and take a larger share of electricity production, he said.
Bloomberg Intelligence calculates that China's solar capacity will increase eightfold from 2016-50 and output will rise by 10.3 times. Its contribution to the country's power mix will jump to 6% from 1%.
Liang Zhipeng, deputy director of the New Energy and Renewable Energy Department of the National Energy Administration, said China's annual renewable energy generation capacity has reached 1.7 trillion kilowatt-hours by the end of 2017, year-on-year growth of 150 billion kWh. That represents 26.4 percent of the country's total energy generation capacity, up by 0.7 per cent from a year earlier.
Meanwhile, the country's annual hydropower generation capacity is now more than 1.19 trillion kWh, a year-on-year 1.7 percent increase, while annual wind power generation capacity has reached 305.7 billion kWh, up 26.3 percent year-on-year.
Annual photovoltaics generation capacity, via solar energy, reached 118.2 billion kWh, up by 78.6 percent compared with a year earlier. Biomass power generation capacity reached 79.4 billion kWh on an annual basis, up 22.7 percent from a year earlier.
The curtailment of wind power is also progressing, said Guo Wei, deputy inspector of the power division of the National Energy Administration. In Gansu province, wind power waste declined 10 percent. The curtailment rate dropped by over 5 per cent across the Xinjiang Uygur, Ningxia Hui and Inner Mongolia autonomous regions, and Jilin and Liaoning provinces.
The National Energy Administration said it aims to replace dirtier coal with renewable energy for heating in most heavily polluted cities and regions in the north within five years. Half of China's northern cities will have winter heating powered by clean energy by 2019, replacing 74 million metric tons of bulk coal. Clean energy heating will continue expanding and cover 70 percent of the country's northern cities by 2021, replacing 150 million tons of bulk coal.
Only around a third of China's northern cities are currently using clean energy for winter heating, with development progressing at a slow pace and the situation in rural areas being especially challenging, Guo said.
The International Energy Agency forecasts that by 2040, coal will account for less than 40 percent of China's power needs, down from the current 70 percent. The agency said installed low-carbon capacity, led by hydropower, wind and solar PV, is likely to grow rapidly and make up 60 percent of total capacity by 2040.