Millennial men shop online for fashionable clothes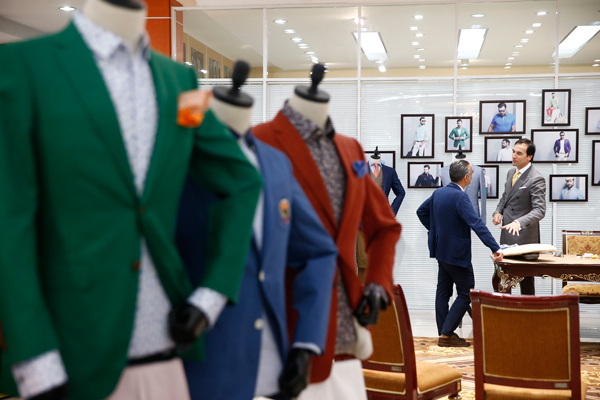 E-commerce boom in China is empowering Chinese male consumers, especially the millennial generation, to clothe themselves fashionably.
Zhang Xiaoqun, 24, a civil servant from Shanghai, loves buying custom-made suits online. He specifies a time for a tailor to visit his home for measurements. Within 10 days, a bespoke suit is delivered to him, a breeze compared to the conventional process of getting a suit stitched at a tailor.
"Compared with buying a suit at physical stores, I think online shopping is more convenient. It saves me a lot of time," said Zhang.
Chinese males such as Zhang are driving the "he-economy", a term that refers to the rising consumption among men.
Fang Qin, founder and CEO of YBRen.com, a Hangzhou-based online bespoke suit firm, said, "With the rapid development of China's e-commerce market, more and more consumers have turned to customizing suits online. The consumer only needs to make a reservation online, usually on our Wechat official account or on our app, and our consultant will pay a visit to tailor a suit for him.
"We offer free door-to-door service. Even if the consumer is not satisfied with our samples or hasn't decided yet, he can get his measurements for free, which will serve as reference for future purchases," said Fang.
The advantage of an online suit service is that it saves time for consumers. In addition, the price is relatively low, given that online stores save on cost of operating physical storefronts.
According to Fang, this business is especially welcomed by the millennials and the post-1970s generation. "These groups of people account for 80 percent of the online clothing market. Our Wechat official account had attracted over 2 million followers by Jan 2, with these groups of people being the majority."
Zhao Yue, an analyst from Beijing-based market research firm Analysys, said, "The millennial generation focuses more on individuality and self-expression. They prefer buying personal items to suit their personalities. Besides, they tend to enjoy the service first and pay later, living beyond their means."
Promising as the market is, some problems remain, credibility being one of them.
"As a loyal fan of physical tailor shops, I still consider them to be more trustworthy. I wonder if online shops are able to provide high-quality goods," said Jiang Congxiao, 32, an office clerk in Beijing.
In response, Fang of YBRen said, "We open all details to the public. Once our dressing consultant takes the consumer's measurements, the consumer can track the clothing's whole manufacturing process, as well as the shipment process till the product is delivered."
Lan Linfeng and Fan Chenwei contributed to the story.