Airbus banking on China's aviation sector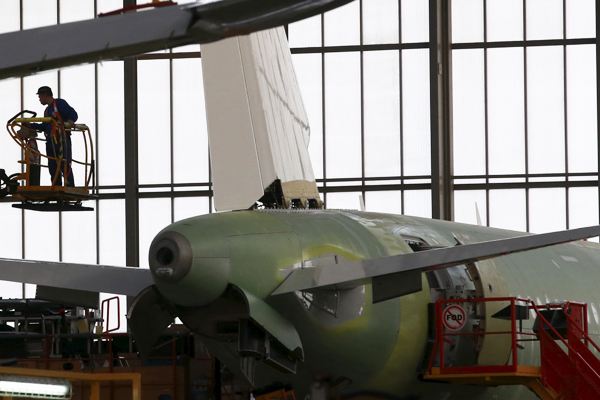 European aircraft manufacturer Airbus SE said on Friday that it was yet to start formal discussions with the Chinese authorities for setting up the final assembly line of its superjumbo A380 aircraft in the country, but remained confident of potential future cooperation opportunities.
George Xu, newly appointed CEO of Airbus Commercial Aircraft China, said he remained bullish about growth prospects for the world's largest passenger airliner in China, and Airbus is constantly strengthening its communications with Chinese carriers on A380 orders.
"When Airbus started producing A380s, it identified China as one of its most important markets. China has a lot of big air hubs, and the country has huge demand for large-scale aircraft," he said at a news briefing in Beijing.
Meanwhile, United Arab Emirates-based Emirates said it would order another 36 A380 aircraft for $16 billion, after Airbus hinted that it would stop A380 production if it was unable to realize new orders.
Airbus and China had signed an agreement earlier this month, during French President Emmanuel Macron's state visit, to increase the capacity of its single­aisle A320 Tianjin assembly and delivery center, a major industrial base for Airbus in Asia.
Currently, Airbus assembles four A320 aircraft every month in Tianjin. By early 2019, the assembly line will produce five aircraft a month, and by early 2020, it will produce six A320s a month, according to the agreement.
"This will help create more work for our suppliers, and we hope to further strengthen industrial cooperation with Chinese suppliers," Xu said.
By the end of 2017, the total output from the cooperation between Airbus and Chinese industrial players reached $592 million from$120 million in 2010, according to Airbus.
Currently, Airbus takes about half of the market share in China, compared with 9 percent in 1996. Its industrial cooperation with China has greatly helped in lifting its market share against archrival Boeing Co of the United States.
Boeing has a B737 MAX completion and delivery center in Zhoushan, Zhejiang province, that is expected to go into operation in May. By the end of the year, Boeing will deliver the first single-­aisle B737 MAX plane directly from Zhoushan to a domestic airline.