Rural teacher in class of his own
Share - WeChat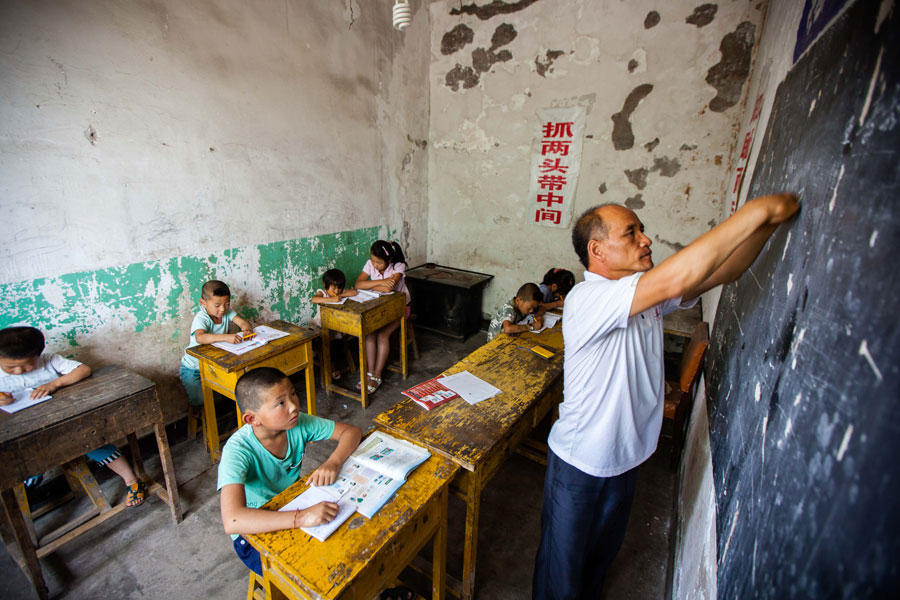 Spending 27 years living alone while teaching students in a small, remote school would be a tough task for any ordinary person, let alone for a fingerless man. But Chen Haiping has done just that.
The 51-year-old teacher at a village school in Shanxi province was selected as a role model in a campaign launched by e-commerce giant Alibaba, and the story of his selflessness has been held up as an example to all.
Born without fingers or toes, Chen met the principal of Liujiashan village school by chance in 1990 and became a substitute teacher, as instructors in rural areas were in desperate short supply at the time.
"I was 23 then and nobody recruited me after I graduated from a middle school. The job provided me a monthly wage of 50 yuan ($7.77). I was very satisfied," Chen said.
To be a good teacher, he has overcome many obstacles. He had to get rid of his accent and make his Mandarin more standard to teach pinyin, the Chinese phonetic alphabet, and he got up early each day to attend a larger school 10 kilometers away to learn from teachers there before returning to his school before class began.
But his biggest challenge was writing on the chalkboard. Without fingers, he had to hold the chalk between his palms to write.
"It was a painful process. I got blisters on my palms, and the chalk always fell to the floor," Chen recalled.
Located on a hillside in Liulin county, his school is very different today from 20 years ago. The two-story building that was once alive with 100 or more chattering students now sees a total attendance of only seven - Chen, who is the teacher, cook and cleaner - and his six students, three of them preschoolers.
Chen teaches them all in the same classroom.