Winter sports industry turning cold into gold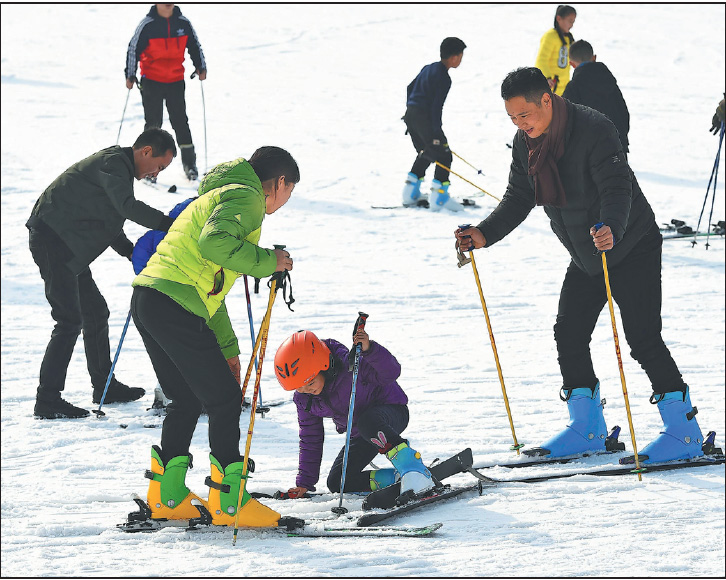 Riding the wave leading to the 2022 Winter Olympics, China's booming winter sports industry is expected to transform ice and snow into white treasure for sound growth in the leisure and tourism sectors.
Although still a rookie in international winter sports, China is rapidly catching up with global powerhouses like Canada, the United States, Russia and the Scandinavian countries.
Ski resorts and skating rinks across the country saw peak visitor flows over the new-year break, both in the freezing northeastern provinces and the much warmer south.
The number of travelers heading to major winter tourism destinations during the three-day holiday increased by more than 150 percent over last year, according to online tourist service platform Lvmama.
A report released by Tencent and internet consultancy Analysys this week estimates that tourism related to winter sports activities will generate 40 billion yuan ($6.2 billion) revenue in spending at venues and on accommodation, equipment sales and sightseeing by 2020, contributing to an overall target value of 600 billion yuan in the industry's market.
The pursuit of a more dynamic lifestyle among urban Chinese will accelerate the shift of winter sports consumption toward healthy and fun experiences, according to experts.
"A sustainable winter sports industry is based on consumer expenditure for experiences as a way of life instead of one-off consumption," Lin Xianpeng, a sports industry professor with Beijing Sport University, said at a recent forum hosted by Tencent.
"The 2022 Beijing Winter Olympics offer a golden opportunity to cultivate early adopters into long-term winter sports participants and consumers.
"Governmental departments and business operators should make the best of the Games by facilitating grassroots interest."
In 2015, after Beijing won the right to host the 2022 Winter Games with co-host Zhangjiakou in Hebei province, the Chinese government unveiled a winter sports development plan to build a total of 650 skating rinks and 800 ski resorts by 2022, laying the foundation for 300 million people to get involved in winter sports to generate industry value of 1 trillion yuan by 2025.
According to the annual ski industry report, by the end of 2016 China had 646 ski resorts in operation and 11.3 million citizens who ski at least once a year.
With revenue from direct participation not yet strong enough, internet service provider Tencent has set its eyes on combining winter sports with entertainment and leisure to make a bigger pie.
"The crossover between sports and all the other elements that attract a larger group of users will draw more attention," said Caitlyn Chen, vice-president of Tencent.
After signing business partnerships with multiple winter sports organizations such as the National Hockey League and the International Skating Union, Tencent will customize a series of entertainment programs based on elite competition and pop star presence to trigger a bigger ripple in and out of the sports sector.
"With the lack of facilities still impacting direct participation, providing a variety of winter-sport themed entertainment shows is an effective way to first connect the public to the industry and then transform some of them into participants," said Ewell Zhao, general manager of Tencent Sports.
China will host 79 winter sports competitions by the end of the 2017-18 season, up from 55 three years ago, when very few of them were fully promoted and marketed.
Tencent will leverage its resource of massive social-media app users and expertise in sports-pop crossovers to popularize winter sports in the buildup to the 2022 Games, said Zhao.
Stimulated by the Olympics, the total revenue generated from sponsorship, broadcasting and fans' spending of winter sports events will be expected to reach 160 billion yuan by 2025, said market consultancy Analysys.
Once the conversion of audience to participant begins, it's up to the local government and business operators to upgrade experiences at rinks, resorts and hotels to keep them on ice and snow for a lifetime.
"All major ski resorts overseas earn their reputation for service and experience while most of our resorts are still in the early stages of their development, counting on making revenues from affiliated real-estate business," said Lin, a sports industry professor.
"Local authorities should help venue operators ease financial pressure with preferential policies in land use and energy supply to allow them to focus more on scientific planning, service and staff training."
According to Analysys report, the country will have 40 winter sports towns from the current 26 by 2020. The number of tourists will grow by an annual rate of 15 percent to reach 340 million in the 2021-2022 winter, from about 170 million last year, the China Tourism Academy predicted.
"Local planners and resort owners should carefully develop properties based on the capacity of natural resources and environment. Quality of service should always supersede quantity," said Cao Jianwei, deputy chief of Chongli district in Zhangjiakou.