Alibaba chooses Xi'an Hi-tech Zone for regional headquarters
Share - WeChat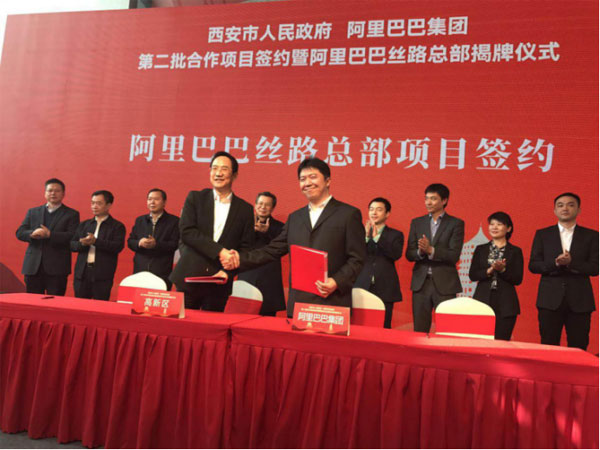 Internet giant Alibaba is to expedite development of Northwest China by establishing its regional headquarters at the Xi'an Hi-tech Industries Development Zone. The unveiling ceremony was held in Xi'an, Shaanxi province, on Jan 16.
At the ceremony for the new "Silk Road Headquarters", Wang Yongkang, Xi'an municipal Party secretary, unveiled the company name and Li Yi, Party secretary of the Xi'an Hi-tech Zone, and Zhong Tianhua, vice-CEO of Alibaba, delivered speeches.
The one-million-square-meter headquarters, to be based at Software New City, will join other big names such as Huawei, Samsung and Schneider to support the development of western China and the Belt and Road Initiative.
The conglomerate will tap into eight businesses already based in the national development zone, boosting the ancient city's development by making use of its advantages in internet finance, data, retailing and e-commerce.
The plan also includes the establishment of a business school and an entrepreneurial guidance center, which will help to cultivate highly skilled talents, attracting and retaining fresh blood to prepare the city for the future.
The ceremony also featured the signing of a second group of 11 cooperation projects between the Xi'an municipal government and Alibaba Group.
Alibaba's credit rating system Zhima Credit will carry out a pilot program with the Xi'an Hi-tech Zone to provide financial services for over 30,000 medium small and micro-sized enterprises by further expanding financing channels and lowering financing cost in accordance with existing supportive policies in the zone.