Downtown retailer sells Beijing 2022 Winter Olympics merchandise
Share - WeChat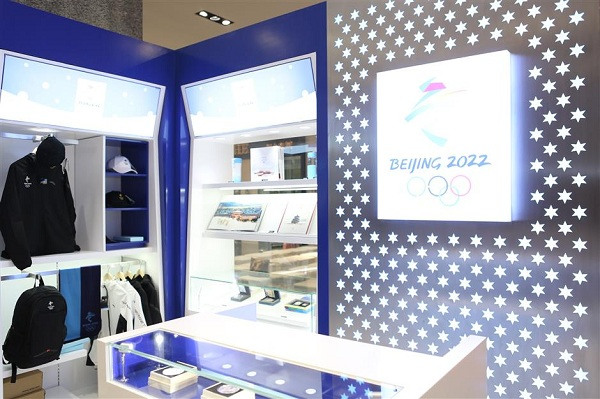 Shanghai's first official retail store for Beijing 2022 Winter Olympics opened in a downtown shopping mall on Jan 15.
Licensed products ranging from clothes, stationery, gold and silver coins and badges are sold at the Shanghai New World Daimaru on Nanjing Road E. in Huangpu District.
"Some simulated scenes of winter Olympics events will be created at the shopping mall in June to better promote the Games among locals," said Tang Yonghong, a marketing official with the organizing committee of the 2022 Beijing Games.
Most of the licensed products are in blue and white colors and carry the official emblem of the Beijing 2022 Olympic named "Winter Dream," which was unveiled in Beijing last month.
The committee has approved over 140 items in six categories as the licensed merchandise of the 2022 Games. They include badges, costumes, stationery, ceramics, stamps and noble metal products, Tang said.
So far, 10 official retail stores of the Beijing Winter Games have opened nationwide, seven in Beijing and three in Shanghai, Shijiazhuang, the northern Hebei Province, and Nanjing in neighboring Jiangsu Province.
The Beijing 2022 Olympic and Paralympic Winter Games will be held in Beijing and its neighboring Zhangjiakou from February 4, 2022 to February 20, 2022. It will be for the third time China will be hosting some kind of Olympic Games after the 2008 Beijing Olympics and the 2014 Nanjing Youth Olympics.
Since Beijing was selected to host the Winter Games in 2022, China has started promoting winter sports in southern cities, including offering grants for public schools to set up relevant courses for students. Thank to the campaign, an increasing number of local students applied for courses in ice hockey, figure skating and speed skating.