Spirit of cooperation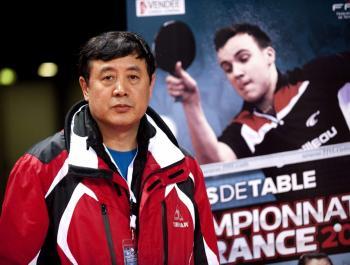 With Beijing and Paris hosting the 2022 Winter Olympic Games and 2024 Summer Olympic Games, China and France are aiming to further enhance their already strong cooperation in sports.
The first overseas office founded by the French Football Federation (FFF) and French professional league (LFP) opened in Beijing in February 2017 with a mandate to promote the French soccer training system and French domestic leagues, along with interaction with China's youth leagues.
Six months later, 17 Chinese youngsters were awarded an eight-day training experience in Clairefontaine, where France's national team is based. Along with enjoying world-class facilities and nutritionally balanced meals, the Chinese kids got a better understanding of tactics under the guidance of Dominique Bijotat, a former manager of several Ligue 1 clubs.
To further consolidate cooperation, Shankai Sports, which runs the Chinese youngsters' overseas training camp, signed a cooperation agreement with Clairefontaine, opening the door for more players to experience the top-level training.
Slackline challenges, famous in France for decades, have also enjoyed growing popularity in China in recent years. Slackline, or focused balance training, is similar to tightrope walking and involves stretching a thin length of webbing between two anchor points, most often trees. Several Chinese cities have hosted challenges over the past five years, attracting many top slackliners from around the world.
The same holds true for RAID, a competition consisting of mountain cycling, canoeing and cross-country running that has been popular in France for over 50 years. China's first RAID International Adventure Race Series was held in Huizhou, Anhui province, last September.
"Featuring challenging mountain and water events, RAID has a close link with people's quest for a healthy way of life," said Xiao Yang, general manager of Cherry Sports, which introduced the competition to China.
"We hope these events become a calling card for our host cities."
China has long dominated global table tennis, winning 28 of a possible 32 gold medals since the sport was introduced to the Olympic Games in 1988. France, which saw a drop in its world ranking following the retirement of Jean-Philippe Gatien, is capitalizing on China's expertise by hiring Chinese coaches.
After the world championships in Paris in 2013, the Chinese and French table tennis associations reached an agreement that resulted in Han Hua, China's national team coach for more than a decade, relocating to Paris.
Step by step, Han emphasized balanced technical development for French paddlers, and that strategy has paid off. France was runner-up at the 2015 European Games and made the quarterfinals at the 2016 World Team Championships, where Emmanuel Lebesson won the nation's first singles title in 40 years.
Han, whose initial contract with the French Table Tennis Association expired after the Rio Olympics, was extended for another four years.
"I hope that with my contribution, along with cooperation between the Chinese and French associations, we will continue to grow and reap dividends," said Han.
Zhu Hongbin and his wife Liu Fang were top Chinese paddlers in the 1990s. The couple currently work in a table tennis club with over 400 members in Paris.
"After Paris became the host for the 2024 Olympic Games, France and China are set to work closer in table tennis and all sports," said Zhu.
Xinhua