Chinese swimmer, 15, aims to surpass US freestyler Katie Ledecky
Share - WeChat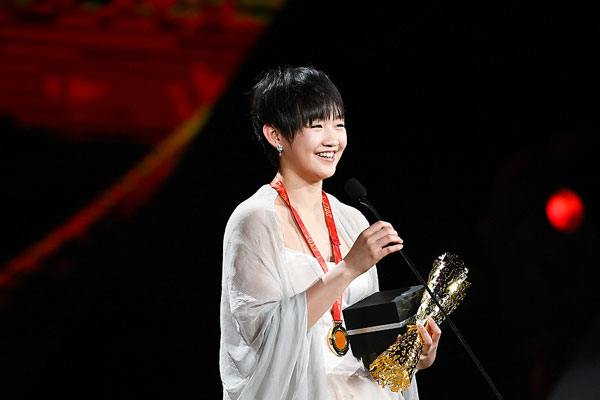 Rising 15-year-old Chinese swimming star Li Bingjie has set a goal: to surpass brilliant US freestyler Katie Ledecky at the 2020 Tokyo Olympics.
Li, born in 2002 in North China's Hebei province, won the gold in the women's 200 meter freestyle and women's 800 meter freestyle at the TYR Pro Swim Series in Austin, Texas, which kicked off on Friday.
The Ledecky-esque Chinese swimmer rose to fame after winning a bronze medal in the women's 400 meter freestyle at her maiden 2017 FINA World Championships in Budapest, which marked the first time since 1998 that a Chinese swimmer had reached the podium.
Li also scooped up two silvers in the women's 800 meter freestyle and women's 4 × 200 meter freestyle relay in Budapest. It's worth noting that Li's score in the women's 800 meter freestyle was 8:15.46, which broke the Asian record.
The victories won the young woman much praise as a talented swimmer and a "female Sun Yang", referring to the Chinese Olympic gold medalist. But Li said, "I still have a long way to go before realizing the big dream in my inner heart."
Li's talent in the water is something she inherited from her parents. Li Jian, Li's father, once won the national champion in the men's 800 meter freestyle, and Li's mother, Wang Wei, was a renowned athlete in middle-distance freestyle and long-distance freestyle.
"When my daughter was younger than two years old, we often took her to play in the swimming pool. She was very excited in the pool and always spent half a day there," said Li Jian.
Li was taken to Xinshichang Primary School, which is famous for its swimming education, in Baoding city, North China's Hebei province, when she was six years old. The little girl wasn't satisfied with daily noon training in school and used to swim after school each day.
Though Li's parents knew how much an athlete will endure, they didn't want their little girl to grow up to be a professional swimmer, Li attracted the attention of Liu Haibo, a national swimming team coach, by entering the semi-finals or finals at many swimming events in Hebei province's sports meeting in 2014.
"Li is good in using the water and has high stroke frequency and good endurance. She has great potential in middle-distance freestyle and long-distance freestyle," Liu said.
Changing from backstroke and medley swimming to freestyle, Li showed her strength on freestyle very soon, and became a member of the national swimming team.
Most Popular
Highlights
What's Hot