Tale of two cities and a panda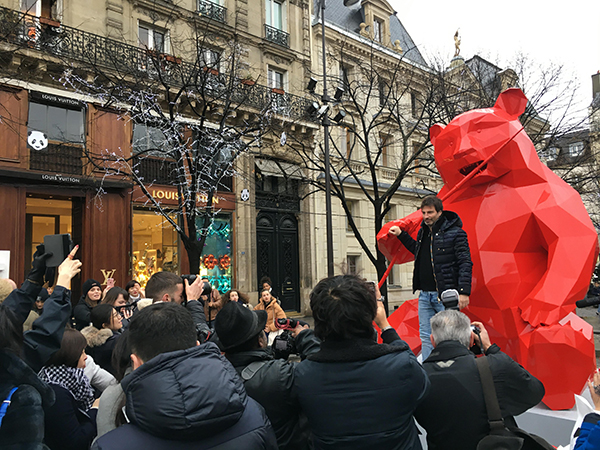 Two streets - one in Paris and the other in Chengdu - are experiencing a bit of the other's cultures and loving it
If you go to a New Year's market in Paris, you would probably expect to find mulled wine, toffee apple, candy floss, fudge and a cup of warm cider perhaps. But this year, there was a little twist - a naughty panda.
Relax, there wasn't a real black and white chubby bear running along the River Seine causing chaos.
But since Dec 13, in the New Year market of the sixth district of Paris, the buzzing area of Saint-Germaindes-Pres, was a giant red panda art work by renowned French contemporary artist Richard Orlinski.
The artwork came about as a result of Operation Panda - a joint project between two streets - one in Paris and one in Chengdu, known as China's panda town and foodie heaven.
In addition, at the local traditional French New Year market, there was a special display of wood cabins with panda motifs presented by Chengdu to Paris.
The Chengdu International Finance Square, or Chengdu IFS, and the Paris Saint-Germain-des-Pres Committee signed a partnership agreement in May to focus on art, culture, commerce and tourism.
The two neighborhoods share much in common - both are the local centers of art, culture and business in their cities.