Drones used to prospect for resources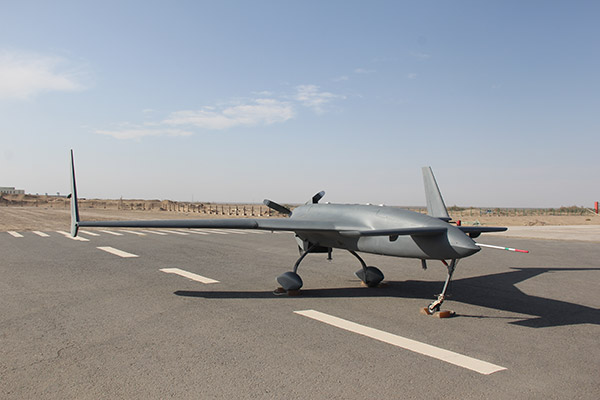 Chinese drones are being used to carry out geophysical surveys in the Xinjiang Uygur autonomous region, saving time and money compared with traditional methods, according to the manufacturer.
The China Academy of Aerospace Aerodynamics said it has refitted several CH-3s - its best-selling midrange combat/reconnaissance unmanned aircraft - to create the world's first mine-survey drones.
One of the planes has been helping China Geological Survey prospect for metallic ores in southern Xinjiang since September, the academy said in a statement.
The CH-3 has flown more than 100 flights over the past four months, covering in excess of 30,000 kilometers, said Zhang Xianning, an engineer at the Beijing-based academy and project manager for the Xinjiang operation.
The drone is controlled by two ground stations and remains airborne for at least seven hours in each flight, he said in a phone interview. If everything goes well, he said, the operation will end before mid-February, when the CH-3 will have flown about 54,000 km.
Shi Wen, chief designer of the CH series, said many modifications were made to the drones, including flight control and navigation instruments, and the aerodynamic frame. The new version can fly close to the ground and stay airborne longer, he said.
During each flight, aerial magnetometers and airborne radiometric detectors mounted on the CH-3 will collect and analyze data in a targeted area, providing preliminary information for geological and chemical prospecting.
In the past, Shi said, almost all geophysical surveys were done by humans, with a small proportion by manned planes, but drones can do the job faster, safer and cheaper.
Chinese unmanned aircraft have also been prospecting for mineral resources in southern Africa since mid-July.
The operation in Zambia is the first time large Chinese-made drones - as opposed to small consumer models - have performed a civilian mission in a foreign country, as well as the first time an African nation has used unmanned aircraft to explore mines.
So far, CH-3s have covered about 150,000 km in more than 170 flights, totaling at least 800 hours. The Zambian government has recognized the drones' reliability and performance, the academy said.
The project is part of an intergovernmental aid program launched by the Chinese Ministry of Commerce and China Geological Survey, and aims to use drones to survey 80,000 square kilometers in north and northeast Zambia.