Authorities crack down on pollution off China's Florida
Share - WeChat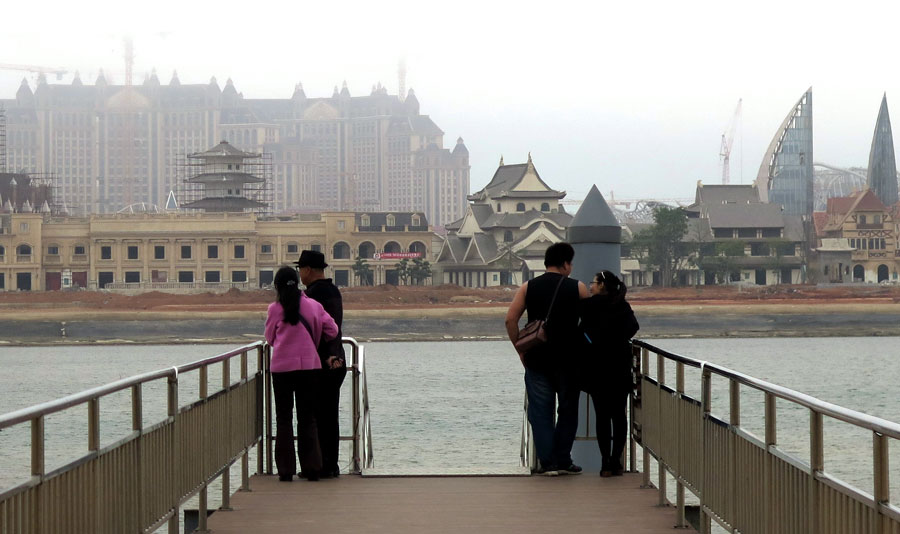 Illegal construction projects damage ecosystem of Hainan, nation's most southerly province
Editor's note: Indepth takes you behind the news and into the heart of complex issues, providing a close-up look at the people and places at the center of the biggest stories.
On Monday morning, Wang Lan stood on a beach in Danzhou, Hainan province, looking across the ocean at an artificial island about 600 meters offshore.
The structure, formed from three smaller interlinked islands, was dotted with half-built villas, hotels, amusement parks and apartment blocks. Construction work began three years ago and the development, which covers 7.83 square kilometers, is rapidly assuming its planned shape of a flower decked with two leaves.
In 2016, Wang, 60, from Urumqi, Xinjiang Uygur autonomous region, bought an apartment in the development, called Ocean Flower Island. This week, she visited Hainan to see how the project, developed by the Evergrande Group, with investment of 160 billion yuan ($24.5 billion), was faring.
In December, construction was suspended after the Central Environmental Inspection Team visited Hainan and reported that the project had resulted in widespread damage to coral reefs and colonies of whitelip oysters, listed as a second-level protected species in China.
"The sales office for the island is temporally closed and none of the cranes seem to be moving," Wang said, sounding disappointed, her eyes slowly scanning left and right.
People in Hainan, China's most southerly province, and further afield were shocked to learn that the developers had failed to obtain the correct construction permits, even though the provincial government listed Ocean Flower Island as a lead project to boost tourism in western Hainan between 2011 and 2015.
The inspection team discovered that the Danzhou government had helped Evergrande, China's second-largest property developer by sales, obtain permission to build the structure by describing the massive project simply as the construction of a series of small islands, which meant it was not necessary to obtain approval from higher authorities.
Ocean Flower Island is one of several real estate developments in Hainan that are subject to a "double suspension"-of construction and sales-as the provincial government attempts to resolve the issues raised by the inspection team.
"I'm not too concerned. They (the provincial government) will simply fine Evergrande, and construction will continue. The island and the buildings have already been built. What else can they do? It's too late," said Wang, the property owner from Urumqi.
A construction worker, who declined to be named, said: "No workers are allowed on the island now because a work group is spending nine more days there deciding what to do next. All I know is that the construction waste has caused severe environment damage."