Hainan gibbon among most endangered apes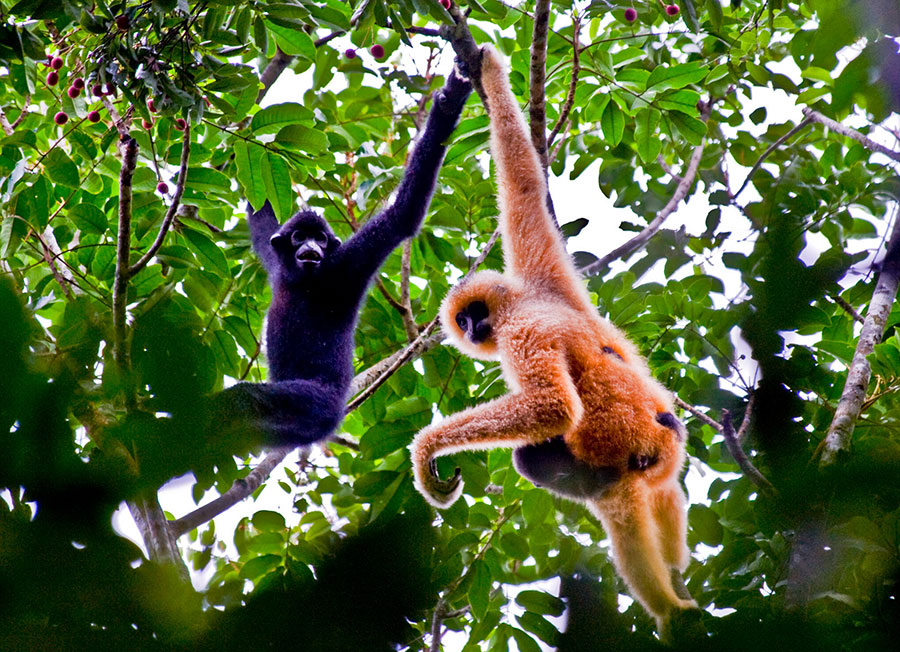 The Hainan gibbon, a unique species found in tropical Hainan province, has been identified as one of the world's top 25 most endangered primate species by the International Union for Conservation of Nature.
With their black faces and thick fur that changes color at different ages, Hainan gibbons-Nomascus hainanus-all reside in Bawangling National Nature Reserve, a 29,980-hectare rain forest more than 200 kilometers south of Haikou, the provincial capital.
There were more than 2,000 gibbons on the entire island in the 1950s, but the primates were later found only in the Bawangling reserve. By the 1980s, there were only seven gibbons.
The population has since increased to 27, belonging to four families, thanks to decades of effort, according to a recent investigation.
Hong Xiaojiang, deputy director of administration for the Bawangling reserve, said historical records showed the main threat to Hainan gibbons was habitat destruction, particularly from the burning and clearing of tropical forests, which led to habitat loss that drove the rare species to less suitable habitat at higher altitudes.
Meanwhile, natural factors can prove fatal, too. In 2014 and 2016, heavy typhoons hit the area, causing landslides and destroying the forests, which cut off the gibbons' travel corridors and threatened their lives.
To protect them from extinction, a series of actions have been taken at the reserve, including public science education, punishment for activities such as illegal logging and hunting, habitat remediation, and the introduction of gibbon experts to offer better care for the animals.
More than 20 kinds of trees, such as purple mangosteen, have been planted over more than 333 hectares in the past 12 years. They are expected to provide food and build a corridor of trees for Hainan gibbons, Hong said.
"The wild plants can provide enough food for the gibbons, but we need to act in advance. Food will be a problem if the population keeps increasing in the next 30 years," he said. "The gibbons are known to live by hanging in the trees and never come down to earth. In this regard, we need to build tree corridors for them to make sure they have a sound area to live."
More than 200 forest protectors and 15 gibbon inspectors have joined the protection effort.
Chen Qing, 57, is among them. The local villager is an experienced inspector who has helped guard the Hainan gibbons for 33 years. He patrols the forest daily to observe and record their activities.
"Thanks to all the efforts and improvement of public awareness, the gibbons on Hainan now have a better living environment," said Chen, who also works as a researcher to help gibbon experts and a university center with gibbon protection and development.
"More efforts are still needed for the small group of Hainan gibbons, as any accident could lead to their extinction," Hong added.