Environmental tax to help China fight pollution
Share - WeChat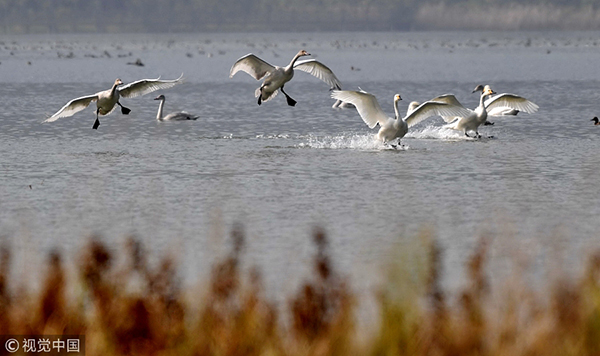 China will levy tax on businesses and public institutions that discharge pollutants from April onward, based on the country's Environmental Protection Tax Law, which came into effect on Jan 1.
The law, which relates to air, water, solid waste and noise pollution, encourages environmentally friendly production models for high-quality economic development.
"All the preparations have been completed," Wang Jianfan, director of the Ministry of Finance's tax policy department, said on Wednesday.
The ministry is also exploring the possibility of taxing other pollutants, including carbon dioxide, and "when conditions permit, the scope of this law will be broadened", he said.
The main purpose of the new rules are to protect and improve the environment, and to reduce the emission of pollutants, Wang said.
"To increase fiscal income is not the primary goal of the tax," he added.
The Environmental Protection Tax Law Implementation Regulation was announced by the State Council, China's cabinet, on Dec 27, 2017. The law was passed by the National People's Congress Standing Committee in 2016.
Once the new tax is enforced, all the tax income will belong to the local governments. It is a replacement of the pollutant discharge fees that used to be collected by the local environmental protection departments, of which the central government used to take a 10 percent share, according to the Finance Ministry.
By the end of 2017, the country collected pollutant discharge fees of more than 22 billion yuan ($3.38 billion) from nearly 330,000 enterprises, up by 2.5 billion yuan or 12.3 percent from 2016, according to data from the State Administration of Taxation.
According to the Finance Ministry, local governments will have more autonomy to set a range for the taxes-from 1.2 yuan to 12 yuan for each unit of air and water pollution emitted-to reflect the different regional environmental conditions.
Beijing, for example, will levy 12 yuan on one unit of air pollution emitted and 14 yuan for water pollution, which is the highest limit of the tax range.
Li Wanfu, director of the Taxation Science Institute of the State Administration of Taxation, said that this law is the first in China to reflect "a green tax system". This is designed to tackle pollution, one of "the three tough battles" to fight by 2020 as outlined by the Central Economic Work Conference.
According to the conference, pollution control will be a key battlefield, with authorities aiming for a significant reduction in major pollutant emissions and improvement in overall environmental conditions.