China's intelligent logistics market size to exceed 1t yuan by 2025
Share - WeChat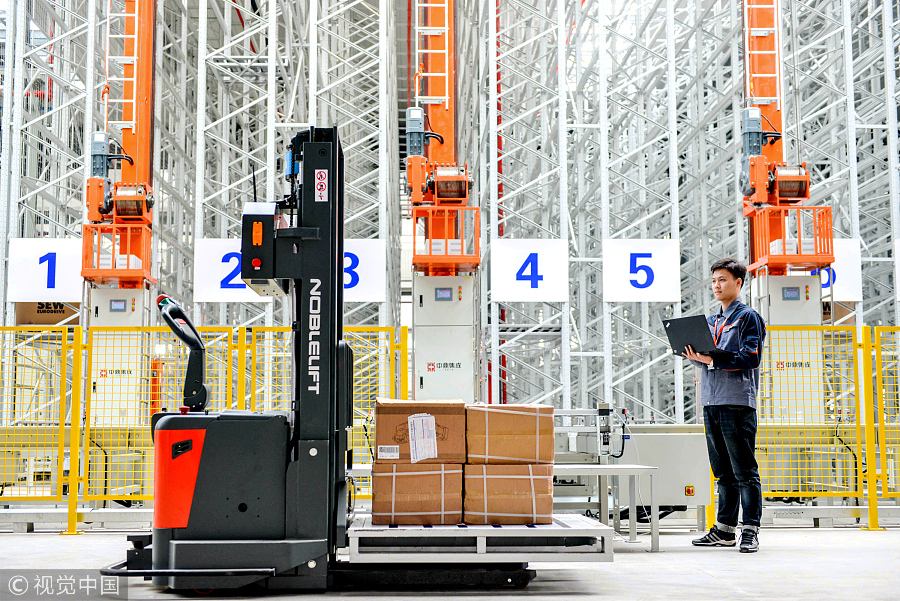 Deloitte predicts China's intelligent logistics market size will exceed 1 trillion yuan by 2025.
Some emerging technologies including drone, robotics and automation, and big data will be used in logistics industry soon as well as wearable devices, 3D printers driverless trucks and artificial intelligence are expected to be used in storage, transportation, delivery and other end parts of logistics over next 10 years, Deloitte said in its latest report published on Monday.
The drone is being applied in commercial stage as its performance on carrying capacity, cruising power, obstacle avoidance and collision avoidance need to be further promoted, said Song Xujun, consulting director at Deloitte in China.
He added datamation is a key that can help logistics firms to realize intelligent logistics, and the firms need to take an open attitude to embrace intelligent logistics, and plan ahead to catch the opportunities.
The intelligent logistics can promote logistics system's capacities on analytical decision making and smart execution to lift the system's level of intellectualization and automation by intelligent technologies and methods such as smart devices, internet of things and big data, according to the report.
China's intelligent logistics market reached 200 billion yuan in 2016, and currently, logistics firms' demands on intelligent logistics are concentrated on logistics data, cloud computing and logistics equipment, said the report citing the China Federation of Logistics and Purchasing.
From 2015, China has taken a series of measures to encourage logistics firms to innovate on informatization and intelligentialize that aim to lower logistics cost, and improve logistics efficiency.
The intelligent logistics can help the firms to meet the goal, and speed up the industry to development, Deloitte said.