More industrial overcapacity to be cut for high-quality economy in 2018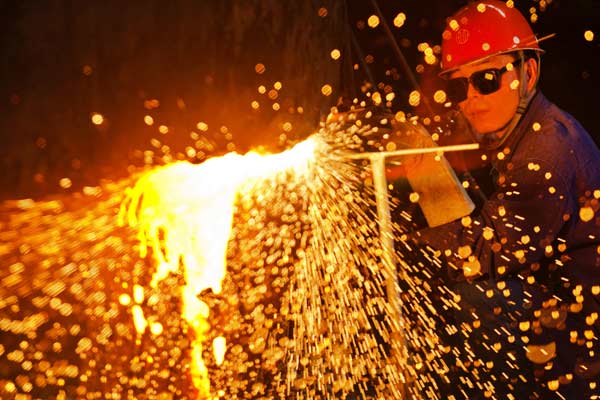 More industrial overcapacity will be cut to deepen supply-side reform for high-quality economic develop in 2018, People's Daily reports.
China is expected to fulfill the goal proposed in 2016 to shut down 500 million tons of coal capacity and consolidate another 500 million tons into the hands of fewer but more efficient mine operators within three to five years in 2018.
National Energy Administration proposed the country will cancel and delay about 150 million kilowatts of coal-fired power construction projects and cut 20 million kilowatts of outdated coal power generation capacity by 2020.
Ministry of Industry and Information Technology also stated that strict inspections will be carried out in key provinces and a long-term mechanism to crack down on the production and sale of substandard steel products will be undertaken to complete the annual task of overcapacity cut in steel industry.
China will use market-oriented legal measures to strengthen policy control and guide companies to cut overcapacity and outdated capacity to establish a long-term market clearing mechanism in order to improve the quality and structure of its industrial capacity in 2018, said He Lifeng, minister of the National Development and Reform Commission.
Strategically, eradicating "zombie" companies will be on top of the agenda to cut off overcapacity and adjust industrial structure in the next stage, according to the report.
Most "zombie" companies are of a certain scale, have a lot of employees and some even have a lot of debt burden, so more specific measures are needed to solve the problems brought by these companies and upgrade industrial structure, said Liu Jiejiao, researcher of Chinese Academy of Social Sciences' Institute of Industrial Economics.
Meanwhile, we should turn to optimizing industrial capacity from merely cutting overall capacity and improve the capacity of advanced capacity with cutting-edge technology which is in accordance with the transformation and upgrading direction and green development concept, Liu added.
The annual Central Economic Work Conference in December pledged that China will press ahead with supply-side structural reform in 2018 with more efforts to improve economic quality.
In 2017, China has met the goal of reducing steel capacity by more than 50 million metric tons and cutting overproduction in other industries such as cement, as the country deepens industrial restructuring.
Official data also show that the country's digital economy amounted to 22.58 trillion yuan ($3.43 trillion) in 2016, ranking second globally and accounting for around 30 percent of national GDP.
Cutting industrial overcapacity was included as one of the top five tasks for reform of China's economic structure as early as 2015 at the Central Economic Work Conference.
Besides cutting off outdated industrial capacity, the top authorities have also supported new industries, such as the mobile internet, cultural creative industry, the internet of things and high-end manufacturing for high-quality economic development.