NBA: Five signature moves and the players behind them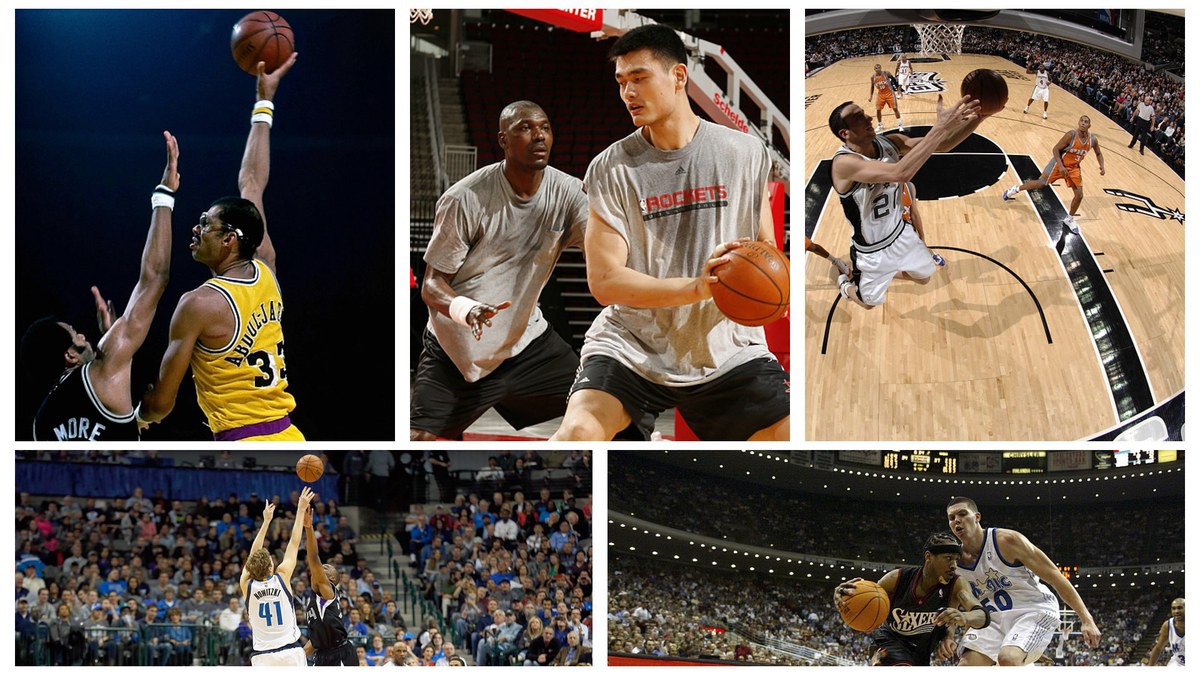 Although basketball is a team sport, it allows for plenty of individual achievement. Stars like Michael Jordan and Kobe Bryant have wowed crowds for years with their ability to perform in clutch situations, and of course, with their signature moves.
A signature move is a showcase of a player's unique style, and through repetition and creativity, can become a defining part of a basketball player's game. Below are some of the five most well-known moves in NBA history and the players that made them their own.
5. Dirk Nowitzki – One-legged fadeaway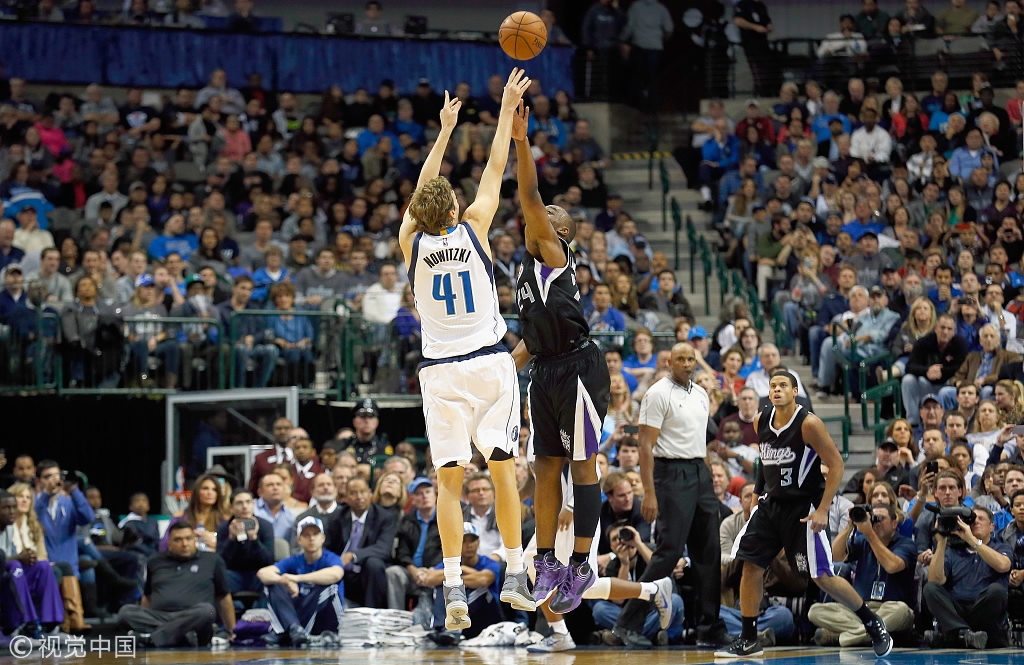 Dirk Nowitzki shoots and scores against Carl Landry of the Sacramento Kings to take ninth place on the NBA's All-Time Scoring list. / VCG Photo
One of the most irresistible offensive moves in NBA history, the one-legged fadeaway jumper from Dirk Nowitzki was almost always a nightmare for defenders.
The seven-foot-tall German can fade away effectively, enabling him to have more space to get the shot off with a perfect arc supported by just one leg.
The fadeaway jumper is also a favorite of LeBron James and Kevin Durant.
4. Allen Iverson – Crossover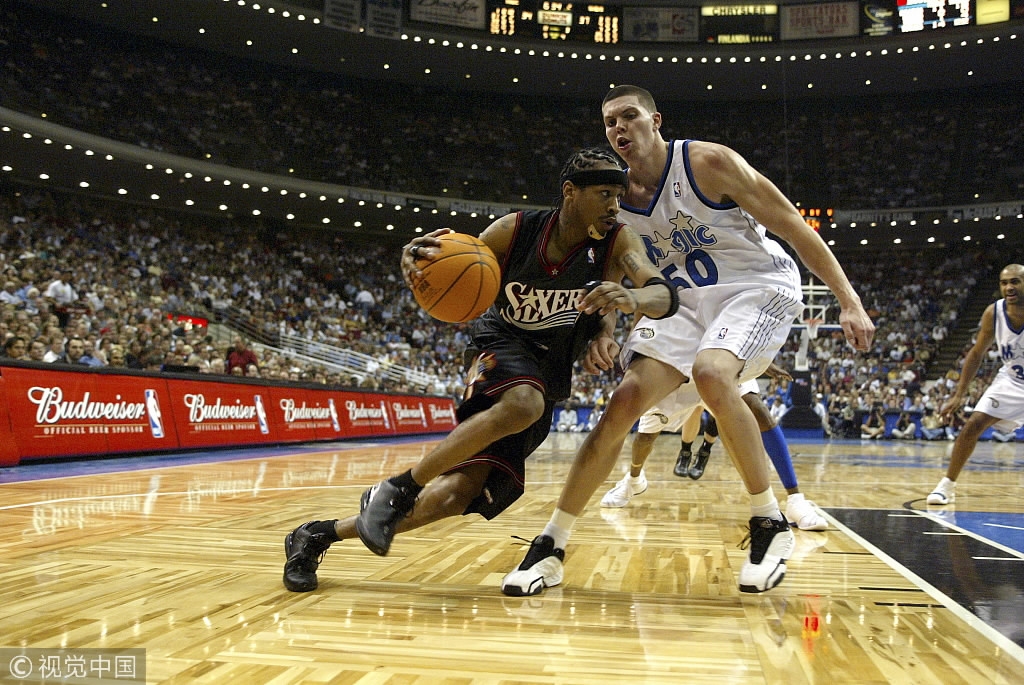 Allen Iverson drives past Mike Miller during a game between the Philadelphia 76ers and the Orlando Magic. / VCG Photo
The six-foot-tall shooting guard's "anklebreakers" embarrassed plenty of his opponents.
Nicknamed "The Answer," Iverson's quickness and agility in dribbling allowed him to create space and get his shots off, avoiding getting blocked due to his relatively short height.
One of Iverson's most famous crossover victims was Michael Jordan in 1997.
3. Manu Ginobili – Eurostep
Manu Ginobili layups against the Phoenix Sun on December 17, 2007 at the AT & T Center in San Antonio, Texas. / VCG Photo
Who was the first person to introduce the Eurostep to the league is still a topic of debate. However, Manu Ginobili has undoubtedly made it one of his signature moves on the NBA court.
As one of the toughest moves to guard, Manu deftly switches directions and then makes a lay-up or passes the ball to a teammate to avoid drawing a charge by defenders.
In November 2016 NBA TV asked fans to vote for the most popular signature move. After four months of polling, Ginobli's Euro step has won 74 percent of the votes and was deemed the most popular star signature move.
The Eurostep has had a significant impact in the league. Many players including James Harden and Kevin Durant have all admitted that they have borrowed from Ginobili's style move.
2. Hakeem Olajuwon – Dream shakes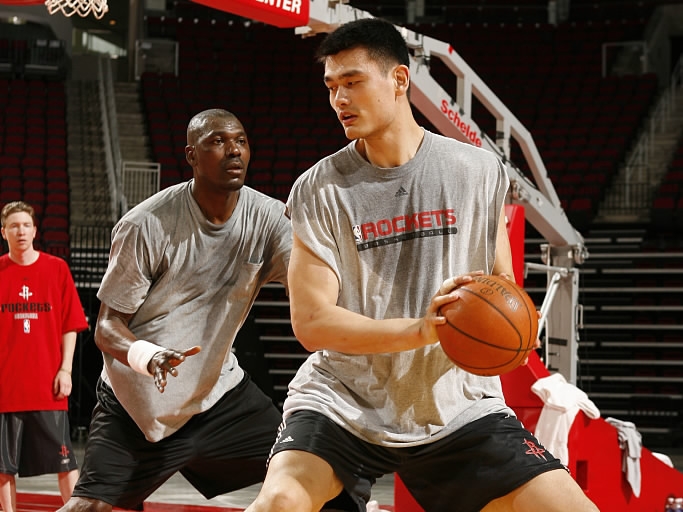 Houston Rockets center Yao Ming (R) and former Houston Rockets center Hakeem Olajuwon (L) work out together at the Toyota Center on May 22, 2007 in Houston, Texas. /VCG Photo
With moves like a guard, the seven-foot-tall "the Dream" Hakeem Olajuwon's signature move is a set of steps that fakes out opponents, often times losing them completely, a rare skill for a big man.
Hakeem Olajuwon met David Robinson during the 1995 NBA Playoffs and embarrassed the latter with a series of countless Dream Shakes.
After retirement, Olajuwon taught super stars such as LeBron James, Kobe Bryant, Yao Ming, Dwight Howard his signature move.
1. Kareem Abdul-Jabbar – Skyhook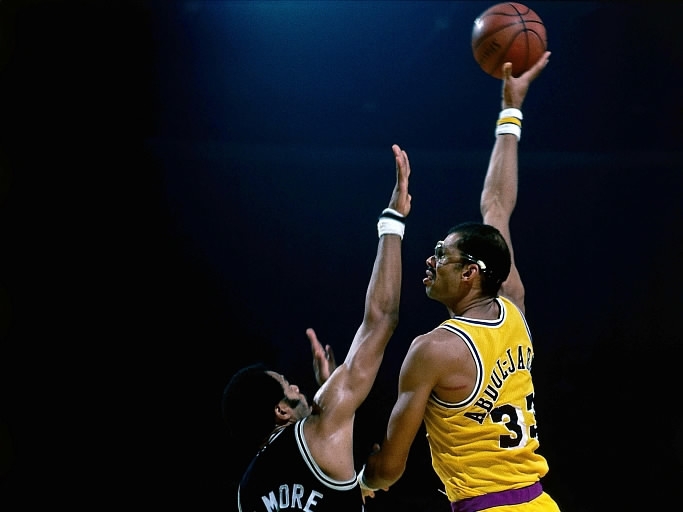 Kareem Abdul Jabbar goes up for a sky hook against the Artis Gilmore of the San Antonio Spurs during an NBA game circa 1983 at the Forum in Inglewood, California. /VCG Photo
The skyhook from the over seven-foot-tall Kareem Abdul Jabbar was impossible to block due to the limited height of the defender. He was able to bend his entire body to raise the ball with his long arms and elegantly toss it into the hoop.
Jabbar developed the ability to shoot the skyhook with either hand, making defenders even harder to contest.
The skyhook became his signature move and contributed to his high lifetime field goal percentage of 0.559.