Cross-border trade boost for renminbi
Share - WeChat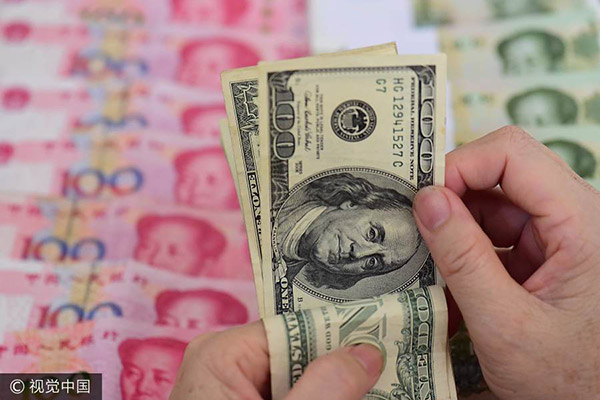 PBOC asks banks to let foreign firms freely remit yuan profits, dividends
China will allow foreign investors to freely remit their yuan-denominated profits and dividends and pledged to remove all barriers in cross-border trade and investment, the central bank said on Friday.
The People's Bank of China said the use of renminbi for cross-border trade and investment will help create a sound business environment and support the country's Belt and Road Initiative.
"Chinese banks should ensure that foreign investors can freely remit yuan-denominated returns from profits and stock dividends," it said. The move will encourage foreigners to use the Chinese currency for direct investments into the country, it said.
The central bank also permitted Chinese companies to transfer funds raised from overseas bond and stock issuance back home, based on their actual needs and promised to further simplify the necessary procedures.
The PBOC move came after the Central Economic Work Conference reiterated in December 2017 to "push forward a new pattern of all-around opening up to pursue mutual benefits with the rest of the world".
Meanwhile, the China Foreign Exchange Trade System (CFETS), a unit affiliated with the PBOC, allowed qualified foreign banks to directly participate in regional transactions in the interbank foreign exchange market from Friday. Prior to this, these banks could purchase yuan only through domestic agent banks.
The CFETS said it will promote transactions in the interbank foreign exchange market and improve efficiency of bilateral settlement between yuan and other foreign currencies, as well as boost the Belt and Road Initiative.
Li Haihong, a researcher at the International Monetary Institute of Renmin University of China, said that the moves would help promote the use of yuan in trade settlements and payments, and encourage foreign companies and other central banks to hold the Chinese currency as part of their foreign exchange reserves.
"It will provide new opportunities for the internationalization of the yuan," said Li.
"It also reflects Chinese monetary authorities' confidence to further open the capital account in the future. The foreign exchange management framework is expected to be more market-oriented with minimal administrative intervention, " he added.
Pan Gongsheng, director of the State Administration of Foreign Exchange, said earlier that once China opens the financial market's "window" for foreign investors, it will never be closed again.
The central bank will also make it easier for Chinese workers to send their overseas earnings back to the country, while allowing foreigners to freely remit their legal income earned in China back home.
The PBOC notice also said that China will also allow foreign institutions to use yuan in domestic trading of carbon emissions.