Journeymen and college kids carrying USA's hockey hopes
Without the ability to pick from a generation of young American stars, USA Hockey is leaning on a longtime NHL winger as captain and hopes a diverse roster can capture an Olympic medal.
At the Winter Classic in New York on Monday, the US named veteran Brian Gionta captain as it unveiled its roster for the Pyeongchang Olympics, the first games without NHL players since 1994.
There's no Patrick Kane, Johnny Gaudreau, Auston Matthews, Jack Eichel or Jonathan Quick, so the US men's hockey team is made up of Gionta, four college players, three from the American Hockey League and 15 playing in professional leagues across Europe.
"We really like our roster," general manager Jim Johannson said. "It's a group that brings versatility and experience and includes players who have a lot of passion for representing our country."
Denver's Troy Terry, Boston University's Jordan Greenway, St Cloud State's Will Borgen and Harvard's Ryan Donato are the NCAA players who should give the US a shot of youth. Terry and Greenway won world-junior gold with the US last year.
"I get the opportunity to go over there and show everyone what I can do," Greenway said. "I would have never (thought I'd) been saying to myself I will probably be playing in the Olympics in my junior year of college."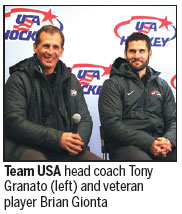 This isn't a rag-tag bunch of college kids like the 1980 "Miracle On Ice," the last time the US men's hockey team won the Olympic gold medal. The goal was to build a team of varying talents that could compete with two-time defending champion Canada and favored Russia, so much of the roster is seasoned.
With 1,006 games played over 15 seasons, the 38-year-old Gionta has by far the most NHL experience in the 23-man squad. A total of 15 players have appeared in the NHL, including AHL star Chris Bourque and European-based forwards Mark Arcobello and Jim Slater and defensemen James Wisniewski and Bobby Sanguinetti.
"I think it's a great mix of young talent and veteran players with a lot of international experience," said Sanguinetti, who was a first-round pick of the New York Rangers in 2006. "Excited to get together in a month."
Tony Granato, who played at the 1988 Olympics and now coaches at Wisconsin, will be behind the bench in South Korea. The US lost the bronze medal game to Finland in 2014 and got the silver in Vancouver in 2010.
But this is an entirely different dynamic with the NHL choosing not to send players, as national federations couldn't pick any player with an active NHL contract. The initial US roster includes the admittedly "semi-retired" Gionta, three players from the AHL in Bourque, Bobby Butler and John McCarthy, five from Russia's Kontinental Hockey League, five from Switzerland's National League A, three from the Swedish Hockey League and two from multiple levels of Germany's Deutsche Eishockey Liga.
"I think we put together an outstanding group of players that will represent us well come February and give us a great chance to do really well," Granato said.
"There was consideration of a lot of players who were there that have had good years and made it hard on us. That is the good thing about the depth of USA Hockey now. There are a lot of players out there that could potentially be Olympic athletes."
Ryan Zapolski, who plays for Finland-based Jokerit in the KHL, is the only goaltender on the roster so far, with two more to be added later this month. Granato said after the pre-Olympic Deutschland Cup in November that Zapolski had the tools to be the Americans' starting goalie even though it was too early to name him as such.