Chongqing's dragon dance performers ring in NY in Times Square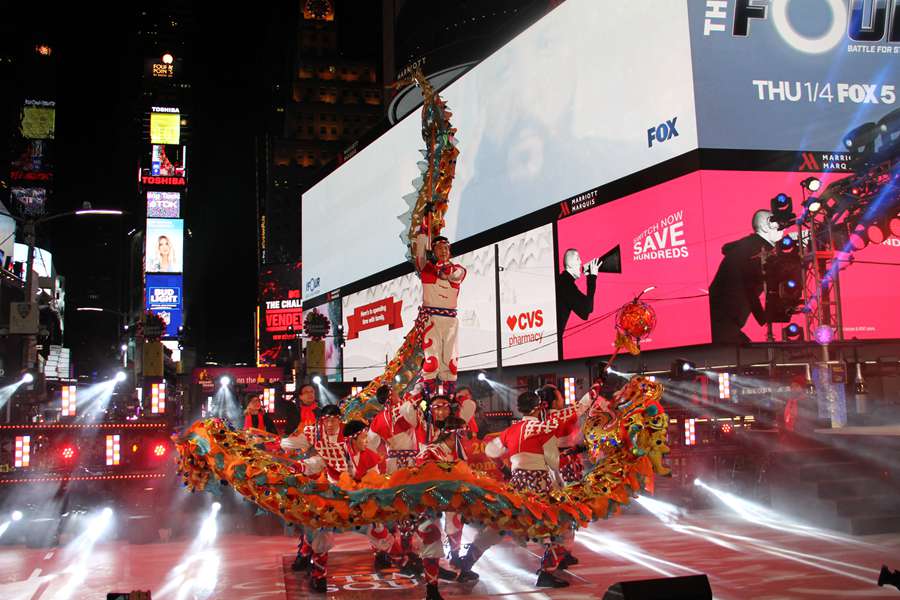 Chongqing grabs the spotlight on New Year's Eve in New York as dragon dance performances take over the 2018 Times Square New Year's Eve countdown on Sunday.
A major city in Southwest China, Chongqing is known for its scenery, mountains, rivers, pandas and spicy cuisine.
Liu Qi, chairman of the Chongqing tourism ministry, extended an invitation to the world "to come to Chongqing, to travel along the great culture of the Yangtze River, to see pandas, to enjoy hot springs, to taste authentic hot pot."
Chongqing offers 72-hour transit visa exemption service to 51 countries and regions including the US.
In 2017, Chongqing was selected one of the World's 10 Fastest-Growing Tourist Cities by the World Travel and Tourism Council.
The New Year's Eve Celebration tradition in Times Square stretches back to more than 100 years. Tourists from all over the world come to "World's Crossroads" in extreme cold just to catch the moment when the Big Ball drops to ring in the New Year.
This year, the temperature is expected to drop to minus 11 degrees with a wind chill around zero, which would tie it for the second-coldest New Year Eve with 1962.