Ant Financial joins payment platform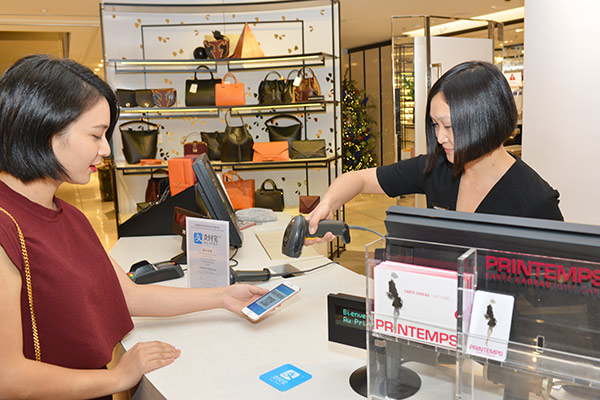 Technical associate status in EMVCo to help firm's global expansion plan
Ant Financial Services Group has become a new technical associate of international secure-payments consortium EMVCo, according to a recent announcement of EMVCo, a move that will provide fresh impetus to the Chinese company's going global efforts.
EMVCo said in the statement that Ant Financial, along with seven other organizations, has joined the program as technical associates of the consortium in the past 12 months and is playing an "active role" in the technical direction of Europay, Mastercard, and Visa specifications. Ant Financial had no comment at this time.
The other companies joining the program include Switzerland-based online payment security firm Truxtun Capital, Japanese tech firm NTT Data Corp and German electronic-device testing and certification laboratory CTC Advanced GmbH.
"The engagement of EMV stakeholders in the associates program is not just desirable, but fundamental to EMVCo," said Cheryl Mish, chair of the EMVCo Board of Managers.
Analysts said that Ant Financial's tightened relationships with the consortium will help it reduce repeated investments in technologies as well as training costs for dealing with merchants and customers in overseas markets.
Ant Financial now operates Alipay, one of the world's largest mobile and online payment platform, controlling more than 50 percent of China's mobile market where QR code, or quick response code, has become dominant in the digital payment sector.
EMVCo, an organization whose members include Visa, MasterCard, JCB, American Express, Discover and China's UnionPay, is in charge of setting unified secure-payment standards for adoption in the global marketplace.
"Given EMVCo's wide global presence and great influence, there is no doubt that the alliance will increase Alipay's credibility in the world and help the company to go global," said Li Chao, senior analyst of consultancy iResearch.
The latest move came after Ant Financial signed a partnership agreement last week with Cambodia's Pi Pay, allowing customers to use their Alipay wallets to pay at Pi Pay's point of sale payment systems across Cambodia, marking another step forward in globalization.
As of now, Ant Financial has cooperated with an array of global players; in addition to Cambodia's Pi Pay, Ant Financial is working with Singapore-based payment provider HelloPay and Thailand's Ascend Money in a bid to expand overseas business.
"However, the alliance will play a limited role in promoting Ant Financial's actual business in the foreign market. For foreign customers, they will not abandon their habit of payment such as Apple Pay and switch to another in a short time," Li added.
He Wei contributed to the story.