Scents and sensibility
Share - WeChat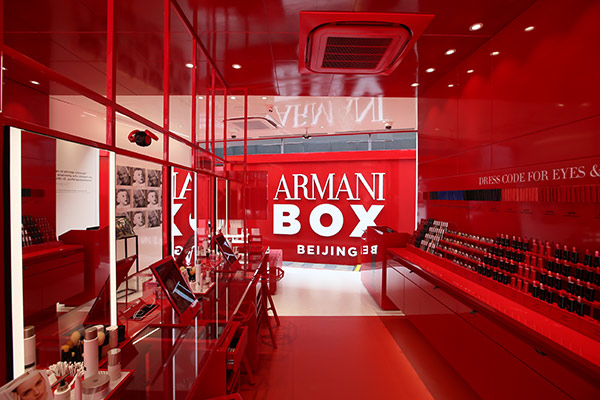 Global president of Giorgio Armani Fragrances & Beauty rolls out Beijing pop-up shop to tempt Chinese customers
Luxury Italian brand Giorgio Armani arrived in China to make a visual statement.
It was there for everyone to see-a giant pop-up shop in red and black in the center of the square at Taikoo Li Sanlitun, a fashionable signature mall in Beijing.
Shoppers between the ages of 20 and 30 lined up in front of the entrance to experience the limited edition of beauty products on display with makeup artists offering advice.
"This is a way to show Chinese consumers another facet of Giorgio Armani," said Veronique Gautier, global president of Giorgio Armani Fragrances & Beauty, part of the perennial Italian style icon.
Gautier is the woman behind a line of luxury beauty products that include fragrance Si, face foundation Maestro Fusion Makeup and Lip Maestro.
In September, Gautier touched down in Beijing to unveil the "Armani Box".
"The pop-up store gives the idea of energy and playfulness to the brand," she said.
An avid fan of museums and the fitness workout system Pilates, Gautier knows the beauty of a work-life balance.
In an in-depth interview with China Daily, she talked about what the luxury brand means to her and China's "amazing young generation".
Why did Giorgio Armani bring its beauty pop-up shop to Beijing?
For all of us, it is a way to show Chinese consumers another facet of Giorgio Armani as Giorgio Armani beauty is a little bit more playful. We are experiencing all over the world, and especially in China, an explosion in the beauty sectors.
Why did you go for a red and black pop-up shop?
Well, we call it the Armani Box. Before it was rolled out in London, but in September we have been in Beijing, Hong Kong and Tokyo. The one in Beijing was the biggest we have done in the four places I have just mentioned.
The pop-up shop format gives the idea of energy and playfulness to the brand. It is also a new way, in terms of retail, to engage the younger generation.
How has Armani Beauty performed in the past year?
We are experiencing very strong growth, especially this year. Foundation products have done rather well since the beginning of 2017. We are also leaders in liquid foundation, as well as products for lips.
Innovation has been the key for Giorgio Armani Beauty. I think it is one of the reasons the brand and the products have been so successful.
Part of that success is because we always listen to what the customer needs. We do that with a touch of Mr Armani style.
How has innovation played a role in the company's success?
Well, our Lip Magnet launch was pure innovation. We plan to bring the product to China next year. Ecstasy Shine is another brand which has been successful. It is very shiny and comfortable when applied to the lips. It was also specifically produced for the Asian market.
What is your opinion of Chinese consumers?
The young generation is quite amazing-globally and in China. In Beijing, we found Chinese consumers were quick to adapt and we believe the market will continue to grow at a fast pace. Many of the young Chinese customers admire Western and European style, and beauty brands. They are very open to what is going on in the fashion sector.
How does Giorgio Armani stand out from the crowd?
When we launched Giorgio Armani Fragrances & Beauty, we did not do it to be popular. We did it to satisfy the needs of our clients. It was also within the prism of elegance or Armani style. If it was not, all brands would produce the same product.
For example, in the foundation sector, we brought out Power Fabric. The aim was to produce a long-lasting foundation. Naturally, we had competitors in the United States producing different products in this same segment of the market. They also produced long-lasting foundation.
But Power Fabric was a typical Armani product and has become a success everywhere. Again, it has that Armani style.
What are your views about the Chinese economy?
It is brilliant. It continues to grow at an amazing rate compared to other markets. As far as categories go, the Chinese consumer is number one everywhere. So that is another reason to understand, and be close, to the market here. We must always satisfy the needs of our clients.
But this is not just in China. You are a nation of travelers so we must have the shades you want in France, the US or even Japan. It is important that Chinese consumers can get their favorite foundation and shades in every country and in every market.
What does the next five years hold for Giorgio Armani?
Our international ambition is to create a complete luxury global brand. That means three core assets-makeup, skincare and fragrance. The skincare segment is growing very fast. Our two main brands are Crema Nera and Armani Prima, a completely new, innovative brand.
After all, the right skincare products are essential when looking for the perfect makeup. Prima is really made for that, so we have those two assets in skincare.
The next battle we must win comes in the third core asset category of perfume. We are number three worldwide and number two in male fragrances-very high. We now want to balance those three assets out because today our skincare is just number eight worldwide. Our ambition is to get to number six in the next five years.
How do you see the market in China shaping up?
Giorgio Armani Fragrances & Beauty is growing extremely fast in China. It is growing at twice the speed of the global market. The sector here is extremely dynamic and we have managed to build a three-asset brand with strong beauty and skincare sectors.
As I have said, skincare is working very well for Armani in China through our Crema Nera and Prima products. Our fragrance sector has also posted strong growth.
What about Giorgio Armani Fragrances& Beauty's online presence?
We are growing three times the market average on our standard online platform, which we revamped in July with a new consumer experience. Today, we treat our online platform the same as offline. This means we can offer consumers the real Armani experience.
But we really want to make sure that, whether you go to a department store or log into our digital platform, you receive the same unique Armani experience.
What is different about your new boutique store in Nanjing, which opened in May?
We have come up with something completely different for our customers. For example, the makeup counters are 100 percent digital. That means you can record your new look automatically on your smartphone.
When you return home, you can view your whole experience again at the makeup station. All the tips you were offered were recorded, so you can play them back.
It is very important to understand what makes our clients feel good, and why they enjoy certain products and perfumes.
How many Giorgio Armani Fragrances & Beauty boutiques are there in China?
We will end the year with more than 80, which is about 40 percent of our total China distribution. It is still controlled as we do not want to open outlets too fast. We want to do this the smart way, even though the brand is growing fast.
What are your hobbies?
I spend a lot of time with my family when I am not traveling. I also cook a lot. My mother was Italian and, perhaps, I have that culture in my blood, but I love discovering new dishes during my trips abroad. When I am on holiday, I love mountain walks or being by the sea. I was born near the coast, so nature is very important.
As a beauty expert, what is your secret formula?
Harmony . . . to have balance in your personal life.