Artist uses paper-cutting to tell Mulan story
Share - WeChat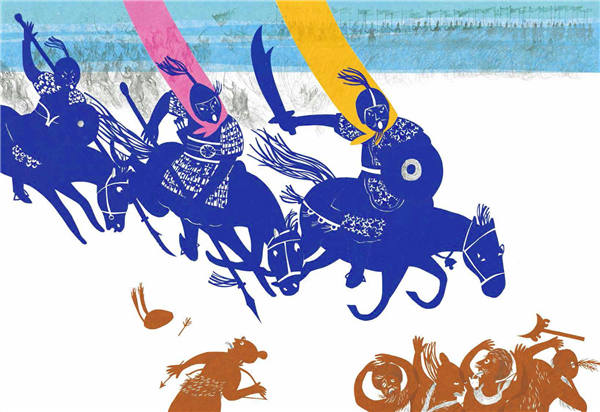 A Chinese artist incorporates traditional craft into a new book about the legend of Mulan that has made a splash overseas. Mei Jia reports.
Illustrator Yu Rong tells a Chinese story by incorporating paper-cutting with international artistic styles in the book, I Am Hua Mulan.
She places paper-cuts inspired by the tradition of Northwest China's Shaanxi province over Western-style pencil sketches to create a presentation of Chinese elements that appeals to an international audience.
Hua Mulan is a legend from the Northern Wei Dynasty (386-534) about a devoted daughter, who disguises herself as a man to serve in the military in place of her father.
"I practiced for more than a decade to find the best artistic expression-an expression from the heart and of myself," she says.
"The book is like compressing my entire life experience into one expression."
Maria Gil, a former judge of the Hans Christian Andersen Award, says: "Yu has made an extraordinary work… A really talented illustrator like Yu Rong not only illustrates the words but adds something new to the story, leading it to another level."
Writer Qin Wenjun worked alongside Yu to best tell the ancient tale in a new way.
Mulan has been featured frequently in modern media, including TV shows, video games and literature. Disney's announcement that it'll remake the 1998 cartoon has renewed interest in the story abroad.
"Mulan's characteristics, such as courage and resistance to adversity, kindness, filial piety and a disinterested attitude toward fame and fortune, made her the most respected of historical Chinese heroines-a woman distinguished in traditional culture and whose legend has been transmitted by generations," Gil says.