Horizon Robotics unveils AI-tailored processor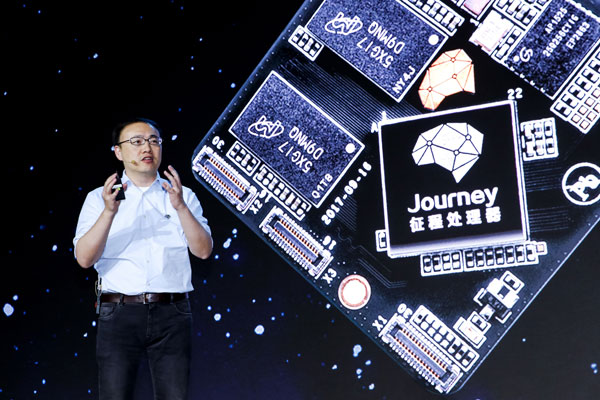 Horizon Robotics Inc, a Chinese startup backed by chip giant Intel Corp, has unveiled two artificial intelligence-tailored processors to power intelligent driving vehicles and image recognition-enabled smart cameras.
The move came as the two-year-old startup announced Wednesday it has raised over $100 million in its Series A+ financing round from Intel, Hillhouse Capital and other investors.
Yu Kai, CEO and founder of Horizon Robotics, said the company is different from other AI chip startups; Horizon highly values the combination of software and hardware, used to develop tailor-made chips and algorithms to drive more AI applications.
Yu is the former head of Baidu Inc's Institute of Deep Learning and was once in charge of Baidu's autonomous driving unit. According to him, the company's Journey 1.0 processor is designed to help cars automatically recognize and monitor pedestrians, motor vehicles, non-motor vehicles, traffic signs, traffic lights and other types of targets in real time, and most importantly, in a low power consumption manner.
"If a fully self-driving car wants to hit the road, its energy-consumption rate may hit 500 watts based on current technology. So it may not be a running car, but a burning car," Yu said.
To partially solve the problem, the company's Journey 1.0 processor can now recognize 200 objects simultaneously with just 1.5 watts.
"We are partnering with German car brand Audi and Chinese automobile maker Changan Automobile Co in this respect," Yu said.
On Wednesday, the company also unveiled a processor named Sunrise to power smart cameras, which can recognize consumers' facial expressions and help gauge how much they like a commodity.
It is partnering with Belle Holdings, a major Chinese retailer, to explore how to use such processors in stores.
Horizon Robotics' efforts are part of China's broad push to build world-class AI processor companies that can rival Qualcomm Inc and Nvidia Corp in the future. The country spends more than $200 billion importing processors every year, more than the amount spent on crude oil.
In July, China unveiled a national plan to build a 1 trillion yuan ($152.5 billion) AI core industry by 2030, and said developing homegrown AI processors is an important part of the ambitious goal.